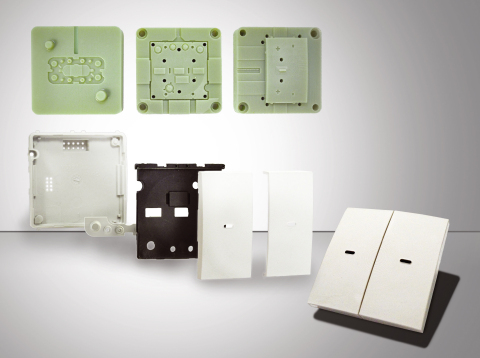 3D printing giant Stratasys announced that German switch manufacturer, Berker, is significantly reducing its production costs and time for testing electrical component prototypes by using Stratasys 3D printed injection moulds.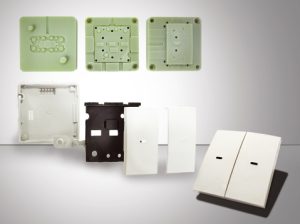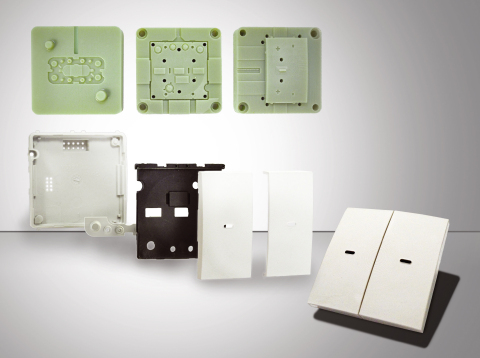 The German company's newly designed electrical component required parts produced using injection moulding. Once assembled, the parts had to pass an electrostatic discharge (ESD) test conducted by an independent testing agency which meant that the switch prototype had to use the same materials as the final part.
Instead of using metal injection moulds to test the designs – which are very expensive and time consuming to produce – Berker decided to try 3D printed injection moulds produced on a Stratasys Conned multi-material 3D Printer.
The company produced a series of 3D printed injection moulds using Stratasys Polymer 3D printing technology with Digital ABS™ material. Each 3D printed mould, with a different geometry, was used to inject a different final part material: ASA, PC and TPE.
Krause, Head of Technical Department & Manufacturing, Berker said one of the biggest challenges was that the newly designed parts needed to fit precisely in order to snap fit together with an existing metal mould-produced part.
"This new flexibility enables us to try out two or three different solutions at the same time to get the best result," Mr Krause said.
"The confirmed quality of our products produced using these functional prototypes has accelerated our R&D processes."
According to him, the new technology enabled Berker to achieve impressive results in terms of time and cost savings, with an average 83% reduction in cost per mould and 85% reduction in production time.
"Stratasys 3D printed injection moulds have helped Berker save time and reduce costs while making working prototype assemblies in the final material," added Mr Krause.
"This technology is now used now all over our company to make sample parts in 'real' materials."
Nadav Sela, Director, Manufacturing Tools, Stratasys, said Berker were able to successfully overcome their challenges by 3D printing moulds that were used to produce their parts with the proper tolerances and material selection-all at a fraction of the time and cost of the traditional moulding process.
"3D printing injection moulds are often an optimal solution for product prototyping and low volume manufacturing," Mr Sela said.
"For a very low production cost and quick turnaround time, they enable the manufacturer to produce parts with complex geometries in final materials before investing in mass production. And after testing the injected prototype part, if designs need to be adjusted, a new mould can be produced in just a few hours, again saving significant time and expenditures."