QASAIR Rangehoods, Australia's premium brand of kitchen rangehoods, is celebrating their 40th birthday with a first ever factory sale!
QASAIR Rangehoods is a wholly owned Australian company that has been manufacturing high quality rangehoods in the quiet Melbourne suburb of Ringwood for the past 40 years.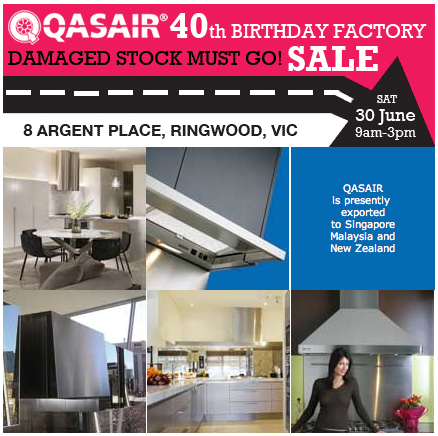 Coincidentally owned in partnership by two John Keatings of no relation to each other, Qasair rangehoods has grown from a small local company to a medium sized company that has offices around Australia and exports internationally to New Zealand and South-East Asia. The premium quality and exceptional effectiveness of the product allows it to compete with multi-national companies on big marketing budgets.
John F Keating who manages the sales side of the company puts their success down to the quality of the product. "We rely mainly on word of mouth from happy customers. We have a solid reputation out in the market place and that translates much better into sales than advertising in a magazine."
Qasair rangehoods is a rare good news story of today's Australian Manufacturing industry. Despite the challenges of the hight Australia dollar and a subdued retail sector, Qasair sales have grown substantially over the years. The Mr Keatings credit this to the "Masterchef phenomenon" where home cooks are investing more and more into high powered cooking equipment to replicate restaurant quality food at home.
Birthday Factory Sale:
Date:  Saturday June 30th, 2012
Time:  9am – 3pm
Address:  8 Argent Place, Ringwood, Victoria
Phone: 9482 7088