Australia's largest honey company Capilano has produced the world's first clinically-tested prebiotic honey.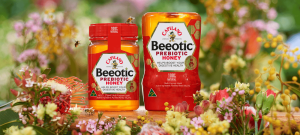 Beeotic is 100% natural prebiotic honey that provides a natural source of prebiotics – natural, non-digestible fibres that pass undigested through the upper part of the gastrointestinal tract and stimulate the growth or activity of advantageous bacteria that colonise the large bowel by acting as substrate for them.
Beeotic will be sold in Australian supermarkets and pharmacies, with the company also targeting the Chinese market.
The product was launched in Richlands by Premier Annastacia Palaszczuk who stated that she was delighted to see a local company competing on the world stage.
"Capilano's timing in targeting the Asian market is perfect, this economy is growing at a phenomenal rate and by the year 2030, it's predicted Asia will account for two-thirds of the world's middle class," the Premier said.
"Chinese consumers love natural products and already embrace the health benefits of honey, so Beeotic has great potential to be a great boost for Queensland exports. Capilano's work in R & D to develop a prebiotic honey is exactly the kind of innovation and value-adding that we are fostering through Advance Queensland."
Advance Queensland is a $405 million whole-of-government innovation agenda that is supporting businesses, entrepreneurs and researchers to commercialise their ideas.
"Queensland has long been at the forefront of new thinking and ideas. Advance Queensland is about providing the right economic environment and support to help Queenslanders in all industries take their great ideas and turn them into commercial outcomes with global market potential – something Capilano is doing with their Beeotic product," said Minister for Innovation, Science and the Digital Economy Leeanne Enoch.
According to Capilano, Beeotic is shelf stable and free of additives, preservatives, artificial colours and flavours, refined sugars and gluten.
Capilano's Beeotic can be found in the honey section at leading supermarkets and select pharmacies.