Tesla Motors and Panasonic have reached an agreement to manufacture photovoltaic (PV) cells and modules in Buffalo, New York.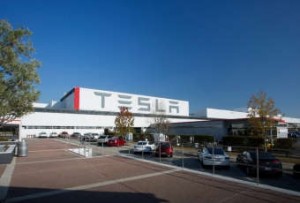 According to Tesla, the agreement is not binding and is conditioned on a positive outcome from the company's proposed acquisition of PV manufacturer and installer SolarCity, which owns the Buffalo plant.
"Under this agreement, which is contingent upon shareholders' approval of Tesla's acquisition of SolarCity, Tesla will use the cells and modules in a solar energy system that will work seamlessly with Powerwall and Powerpack, Tesla's energy storage products," the company said in a blog post.
"With the aid of installation, sales and financing capabilities from SolarCity, Tesla will bring an integrated sustainable energy solution to residential, commercial, and grid-scale customers."
If Tesla's proposal to acquire SolarCity goes through, Panasonic will begin PV cell and module production at the Buffalo facility in 2017. Tesla said it will provide a long-term purchase commitment for those cells from Panasonic.
JB Straubel, Chief Technical Officer and Co-founder of Tesla, said the collaboration builds on the established relationship between Tesla and Panasonic, which includes the production of electric vehicle and grid storage battery cells at Tesla's Gigafactory.
"We are excited to expand our partnership with Panasonic as we move towards a combined Tesla and SolarCity. By working together on solar, we will be able to accelerate production of high-efficiency, extremely reliable solar cells and modules at the best cost," Mr Straubel added.
In the meantime, Tesla and SolarCity took another significant step towards merging the companies.
According to Tesla's statement, each company set 17 November as the date of its shareholder meeting to vote on the acquisition and final proxy materials are now being mailed to each company's shareholders.
"If shareholders approve the transaction, a combined Tesla and SolarCity will be able to provide the first ever opportunity to generate, store and consume energy entirely sustainably, through a suite of integrated products that add aesthetics and function while reducing cost," reads the statement.
"By leveraging SolarCity's installation network and Tesla's global retail footprint, we can do this in a way that is seamless for our customers and that we expect will create significant value for our shareholders."