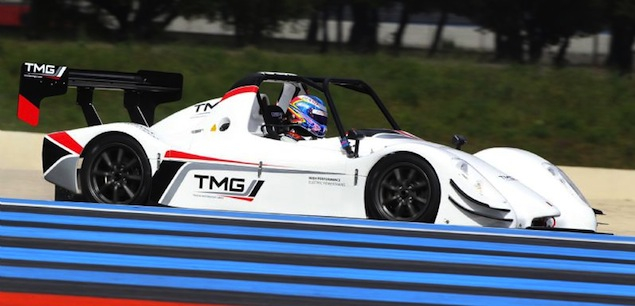 Toyota Motorsport GmbH (TMG) is set to tackle the high altitudes of the legendary Pikes Peak International Hill Climb using a secret weapon – electric power
Unlike conventional combustion engines, the fully electric drivetrain of the new Toyota EV P002 racecar maintains full power even in the thin air of the hill climb's 19.9 kilometre course.
The race begins at an altitude of 2,862 metres and finishes at the 4,300-metre Pikes Peak in Colorado Springs, US.
The TMG EV P002's twin axial flux motors deliver a combined output of 350kW, which is expected to propel the vehicle to a top speed of 240km/h.
The advanced electric motors also deliver 900Nm of torque through a single gear transmission.
Toyota engineers have spent the past six months developing the Radical chassis-based EV P002, which is a development of the street-legal TMG EV P001 that broke the electric car lap record at the Nürburgring Nordschleife in 2011.
The EV P002 electric powertrain produces more power and is more durable than its predecessor following a comprehensive testing program.
Multiple Japanese rally champion Fumio Nutahara will drive the EV P002 in the event, also known as the 'Race to the Clouds', on July 8.
This year's race will have 16 classes and a field of 200 competitors.
TMG EV P002 technical specifications:
Performance:
Top speed    240km/h (Pikes Peak configuration)
Maximum torque    900Nm
Maximum power    350kW
Maximum revs    5000rpm
Powertrain:
Electric motor     2 axial flux
Inverter     2 x TMG inverters
Gear ratio     2.5
Transmission     Single-reduction gearing
Battery     Lithium ceramic
Battery capacity     42kWh
Charging technology     Off-board DC charging
Dimensions:
Length    4.10m
Height    1.04m
Width    1.79m
Media Release
08 June 2012