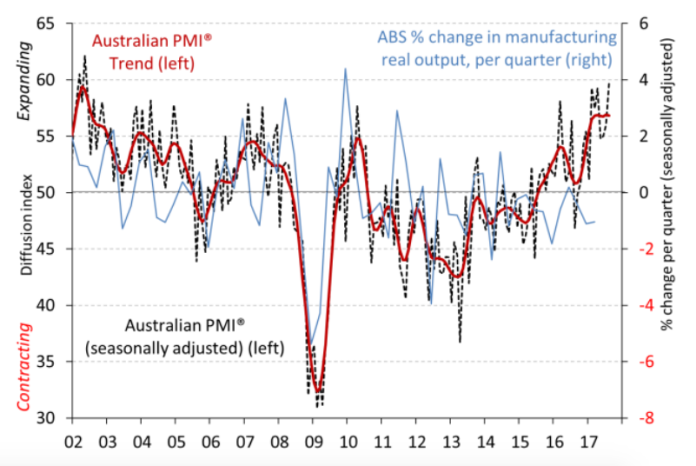 Ai Group's data for August has shown Australia's manufacturing sector is still growing with the Performance of Manufacturing Index (PMI®) jumping 3.8 points to 59.8 in August – the highest in the last 15 years.
"The alignment of the stars continued for domestic manufacturing with the Ai Group Australian PMI® indicating a very strong performance in August. Production and employment lifted and new orders grew strongly in a month of broad-based expansion across the sector. A particularly strong showing by the non-metallic mineral products sub-sector reflects its close links with the building and construction industry buoyed by investment in infrastructure, a lift in commercial building and solid levels of activity in residential building," said Ai Group Chief Executive, Innes Willox in a media release.
"Alongside the weight of good news, the recent lift in the value of the Australian dollar is dampening the outlook for sales growth both in export and the domestic markets. As well, energy prices and the uncertainty around energy policy are inhibiting investment and causing grave concern particularly among the more energy-intensive segments of the industry."
In August, six of the seven activity sub-indexes in the Australian PMI expanded – the highest ranking being production and new orders (61.4 and 64.3).
Of the eight manufacturing sub-sectors, seven expanded in August led by non-metallic mineral products (up 3.5 points to 72.3) and wood & paper products (up 1.7 points to 71.1).
Click here to see the full report.