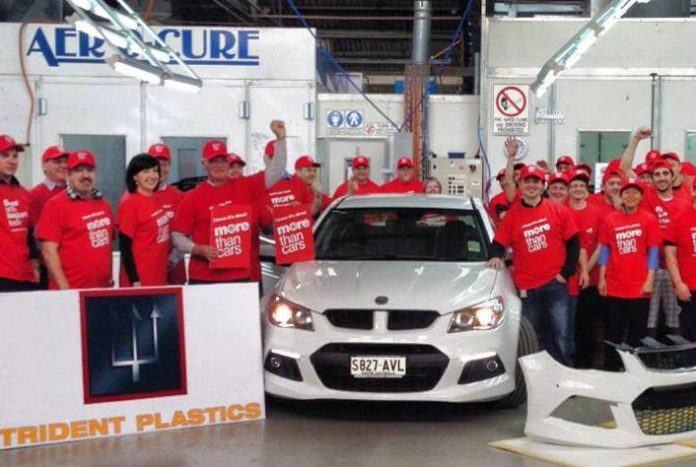 South Australian plastics manufacturer Trident Plastic has grown in business by a whopping 35% since receiving a $500,000 State Government Automotive Supplier Diversification Program (ASDP) grant in 2015.
In parallel with the growing order book, the St Clair based business has also increased its workforce with the addition of 14 former auto workers at its Woodville factory which operates around the clock.
The privately owned business started diversifying in 2009 after the Global Financial Crisis, with their efforts culminating in 2015 when the company purchased the largest plastic moulding machine in the Southern Hemisphere to manufacture plastic rubbish bins for the domestic and overseas markets.
It also recently signed a 14-year contract to supply Holden parts and accessories and will continue to supply parts and accessories for some Mitsubishi and Toyota vehicles.
Managing Director Steen Saurbrey said the continued expansion will allow the company to employ several more Holden workers once the car manufacturer's Elizabeth plant shuts down this Friday.
"At Trident, we started diversifying in 2009 after the Global Financial Crisis, but only gained momentum when we received the diversification grants. Now, our business has grown about 35 per cent per year for the past three years," Mr Saurbrey remarked.
"Having supplied to the automotive industry for more than 20 years, our staff are competent with systems and procedures which has made it easier for us to manufacture new products. We currently employ about 14 workers from other automotive suppliers and Holden, and we are currently looking to employ more workers from the auto industry once GM closes.
Minister for Automotive Transformation Kyam Maher said Trident's successful diversification was a great example of government and business working together.
"Trident's story is a remarkable one – not only has it successfully diversified – but it has increased its workforce since Holden announced it would close its Elizabeth factory," the Minister said.
"Labor is standing up for South Australian workers and it's so pleasing to see the State Government support for automotive diversification is not just helping to retain existing jobs – but is creating new jobs for South Australians too."