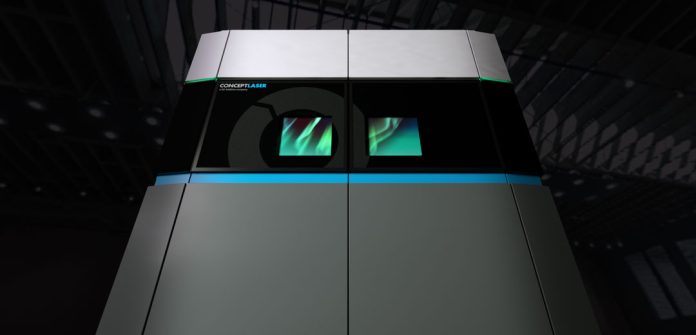 GE additive has unveiled a scalable, meter-class, laser powder-bed fusion BETA machine that will allow manufacturers of large parts and components configure and customise to their own specific industry applications.
Developed in just nine months as part of Project A.T.L.A.S innovation program, the new BETA machine builds on technology previously developed by GE, combined with Concept Laser's expertise in laser additive machines.
Mohammad Ehteshami Vice President and General Manager of GE Additive, said the new BETA machine was ideally suited to industries that require large complex metal parts, such as aviation, automotive, space and oil and gas industries.
"Irrespective of industry, every customer has its own specific needs and its own unique levels of complexity. We regularly hear that next-generation machines need to be customizable and configurable," Mr Ehteshami added.
"The new meter-class machine we're debuting at formnext is our response to that feedback – a solution that is scalable and customizable and meets the needs of our industry, as it matures."
Frank Herzog, founder and CEO, Concept Laser said the machine represents significant innovation breakthrough for the metal powder additive manufacturing sector.
"Bringing innovation and technologies to market in just nine months demonstrates exactly what we mean by accelerating the additive manufacturing industry. Our Project A.T.L.A.S is one way we are helping our customers be more efficient and nimble as the sector matures," said Mr Herzog.
"This demonstrates what's possible when we combine the strength of Concept Laser with GE."
Project A.T.L.A.S (Additive Technology Large Area System) was established by GE Additive on a company-wide level to develop the next generation large additive machines.
Image credit: https://www.ge.com