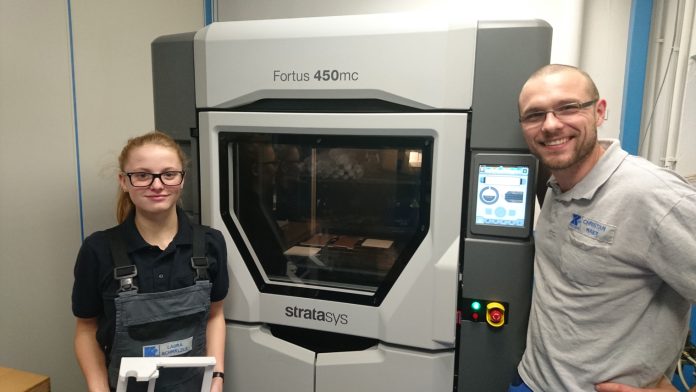 German industrial parts manufacturer, Kratzer, has reduced fixture production time from a few days to just a few hours thanks to the installation of a StratasysFortus 450mc Production 3D Printer.
Christian Maier, Division Manager Fixture Construction and Training Supervisor, Kratzer, said the adoption of Stratasys' 3D printing solution has allowed the company to produce highly complex, customised assembly line fixtures at a fraction of the time compared to traditional methods.
"Since the installation of our new Fortus 450mc 3D Printer, we can have the fixture ready the next day, which results in time savings of up to 90%," Mr Maier remarked.
Kratzer, which specialises in the production of customised and on-demand turned, milled, honed and grinded parts, uses its fixtures as part of the process to create highly complex production parts that span implants for the dental market to brake housings for the automotive and aerospace sectors.
Mr Maier said the new printer allows Kratzer to produce durable fixtures in the most complex geometries, without compromising quality.
"We have traditionally manufactured parts, which over time naturally start to crack and break," he explained.
"Previously, we had to wait for the team to manufacture another fixture, which delayed the production process by several days. Now, we have the file, we can have the fixture in just a few hours. This dramatically enhances our production flow."
He said the ability to customise fixtures for specific parts is especially important to the company's business and delivers increased flexibility by allowing them to process and complete customer jobs faster.
According to him, the laser devices in Kratzer's production line is just one area to have benefited from 3D printed fixtures.
"Very often, our customers require parts that need a serial number, logo or writing applied to them, which is undertaken by our laser machines," Mr Maier continued.
"Prior to having our Fortus 450mc, we had to put each part separately into the laser device, or mill customized fixtures for every job to hold several parts. Obviously, this was extremely tedious and time-consuming, but with additive manufacturing, we can create holding fixtures to laser 30 parts simultaneously, saving us an incredible amount of time and labor."
Andy Middleton, President EMEA, Stratasys, said cases like Kratzer showed the tremendous impact that 3D printing can have on overall production line efficiency.
'The significant time and cost savings, as well as the added flexibility and design freedom achievable, offer companies the opportunity to increase competitiveness and enable their engineers to adopt an additive mindset," he concluded.
With their in-house Stratasys Fortus 450mc Production 3D Printer, Christian Maier and his team can now produce fixtures for their production line in hours, as opposed to days using traditional methods.
Image credit: Business Wire