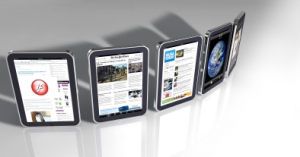 Last year, the iPad wave swept over the Australian digital gadget market. In 2010, the ground-breaking device was named by TIME Magazine as one of the Best Inventions of the Year 2010, making it the king of cool devices.
Less than a year later, this Friday, to be exact, Australian Apple fans will be able to get their hands on the faster and skinnier iPad 2. Available in black and white, the iPad 2 boasts more internal memory and two cameras. Market researcher Telsyte estimates that Apple's new iPad will still claim the lion share of tablet market due to its brand visibility, despite competition from other media tablet manufacturers.
Once dubbed the "laptop killer", many businesses are now making the iPad accessible to employees due to its portability and reduced paper waste.
For more information about iPad 2, please visit http://www.apple.com/au/ipad/features/
Image: Salvatore Vuono / FreeDigitalPhotos.net