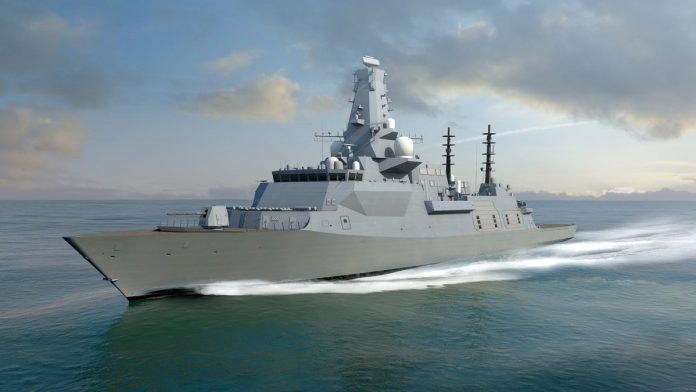 The Australian shipbuilding unions and BAE Systems Australia have signed a Principles Agreement that ensures the Future Frigate SEA 5000 project will revitalise manufacturing  and produce the best possible product for the Australian Navy – if BAE's bid is successful. 
The agreement, which was signed by BAE Systems Australia, AMWU, AWU, ETU, Professionals Australian and the ACTU, supports the development of a highly skilled, flexible workforce with access to ongoing training and skills acquisition.
Gabby Costigan, Chief Executive Officer, BAE Systems Australia, said the commitments within this agreement to a genuine cooperative approach between BAE Systems, its workforce and their representatives demonstrates the mutual respect that has grown between the company and Shipbuilding Unions.
"BAE Systems Australia welcomes the signing of this Principles Agreement with the Australian shipbuilding unions. This Agreement is a further demonstration of the mutual respect and cooperation developed throughout a number of major programs including the building of ANZAC class frigates, the New Zealand frigates HMSNZ Otago and Wellington, the on time delivery of the Landing Helicopter Dock Ships and the construction of blocks for the Air Warfare Destroyer program," he said.
"BAE Systems is proposing its Global Combat Ship – Australia for the Federal Government's SEA 5000 program. Based in South Australia the project will employ many thousands of highly skilled people from across the nation, including 1000 graduates and apprentices during the 30+ year program to build nine Anti-Submarine Warships for the Royal Australian Navy."
ACTU Assistant Secretary Scott Connolly said the once in a generation program represents a fantastic opportunity for the Australian manufacturing industry.
"The Frigate program is critical to Australia's national security, and the security of thousands of Australians jobs," Mr Connolly stated.
"This project has huge potential to create jobs and build capacity right across the shipbuilding industry and its related manufacturing supply chains."
"The ACTU hopes that this agreement signals the continuation of a constructive relationship between BAE Systems, its workforce and the shipbuilding unions."
AMWU Assistant National Secretary Glenn Thompson said the SEA 5000 Future Frigates program is a key pillar in the Government's ambition to create a Continuous Naval Shipbuilding industry.
"This agreement is another milestone in our campaign for an Australian shipbuilding industry that delivers good jobs and meets Australia's future needs. Thousands of shipbuilding workers have campaigned to secure the future of this industry," he continued.
"We look forward to working with BAE Systems to build a workforce that has the skills to deliver this critical project."
Image credit: www.baesystems.com