Kellogg in Australia
Kellogg has been providing food to the Australian community since 1924. It all started when Mr. Morris Raymer, a specialist in automatic packaging machinery, was sent to Australia in 1924 to set up corn flake machinery in rented premises in Shepherd Street, Chippendale and Australian production began in November 1924.
A Kellogg representative, Joel S. Mitchell, was sent to Australia in August 1925 to launch the marketing program for Corn Flakes and he spent a year in this country. Corn Flakes proved so successful in the market that a new plant was built at Botany in 1928.
The manufacturing facilities of Kellogg cereal are still at Botany, on the train line and near to the wharves for convenient shipping of products around Australia and into the Asia-Pacific region. The factory has been expanded several times over the years to keep pace with an ever increasing demand. That demand is still growing as more and more people become aware of the importance of grain and fibre based foods in their diets.
A manufacturing facility was bought in Charmhaven on the NSW Central Coast in 2000 to produce our snack products. This facility was significantly expanded in 2004 and now manufactures the majority of Kellogg's® snack products for Australia and New Zealand.
Australian raw materials
Each year nearly 30,000 tonnes of whole corn is milled for Kellogg, making us one of the largest users of Australian corn for food production. Special corn hybrids developed by seed breeders in association with Kellogg and our suppliers ensures high quality product.
The company also buys many other Australian grown grains, sugar and nuts. Kellogg is a significant purchaser of Australian wheat products, including flour, whole wheat, brans and gluten. Kellogg purchases in excess of 20,000 tonnes of wheat materials each year.
Proudly Australian made
Approximately eighty five percent of our raw material ingredients for our cereals are sourced in Australia. All of our Breakfast cereals sold in Australia are manufactured in Australia.
We are also proud of the fact that we export various Australian made breakfast cereals and cereal bars into countries right around the Asia Pacific region, as far away as Malaysia and Japan as well as nearby Indonesia and the Pacific Islands.
Commitment to Australia
Because of our commitment to the food industry in Australia, Kellogg continues to invest in its Botany cereal plant.
Kellogg has expanded into the fast growing nutritious snacks category with the acquisition of a manufacturing facility on the NSW Central Coast.
Kellogg is involved in projects to improve the quality and yield of agricultural produce.
Kellogg people
Kellogg employs approximately 650 people in Australia and New Zealand directly and provides work to many other people who work in related businesses such as transport, packaging and agriculture.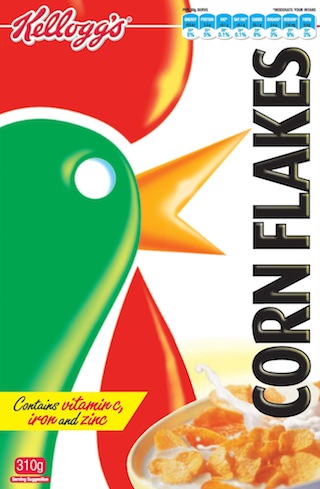 Source:
www.kellogg.com.au  http://bit.ly/e8RQAS