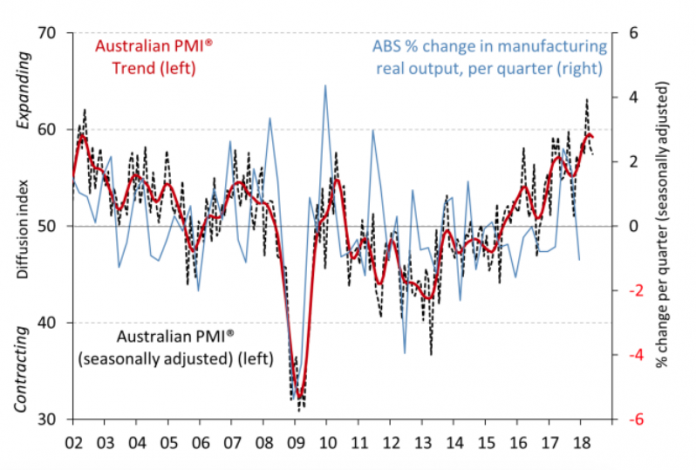 The Australian Industry Group's Performance of Manufacturing Index, released on Friday, showed that the country's manufacturing sector expanded for the 20th consecutive month.
According to AI Group's report, the Australian PMI remained firmly in expansionary territory in May, despite easing by 0.8 points to 57.5.
The May reading showed that five of the seven activity sub-indexes in the Australian PMI continued to expand, with new orders up 0.8 points to 62.4, indicating healthy demand and a strong likelihood of further near-term growth.
Seven of the eight manufacturing sub-sectors have also expanded in May, with the wood & paper products the only exception (down 0.6 points to 49.4).
Petroleum, coal & chemicals (down 0.9 points to 64.2); metal products (down 0.2 points to 61.4); machinery & equipment (down 0.3 points to 59.9); and non-metallic minerals (up 0.1 points to 63.3) have all reported very strong levels of activity and remained well above the 50-point mark that separates expansion from contraction.
Further, the input prices sub-index went up by 7.5 points to 70.0 in May, reflecting high energy input costs in a number of sub-sectors, while wages dropped marginally  but remained elevated (down 1.9 points to 58.4).
The selling prices sub-index slipped by 2.4 points to 55.1, indicating more modest price increases for manufacturing customers in May.
Ai Group Chief Executive, Innes Willox, attributed the current run of industrial expansion to lifts in production, exports, employment and new orders.
"Growth was broad-based with only one sub-sector not recording a lift in performance. This exception was the wood and paper products sub-sector which saw a month of steady performance," Mr Willox added.
"Most encouragingly, manufacturers recorded another month of strong employment growth with the employment sub-index remaining at the very healthy level of 56.1 points."
"The recovery of manufacturing employment has been a feature of this period of expansion. As is the case in other parts of the economy, this employment growth has been facilitated by moderate wage outcomes."
Gareth Aird, a Senior Economist at the Commonwealth Bank, described the result as disappointing, despite PMI readings pointing to expansion.
"A disappointing result. PMI readings are still pointing to expansion, but hiring has slowed and growth in new orders ebbed to an eight-month low," he said.
"We aren't too concerned, however, as the fundamentals remain sound. Some firms have pointed to the lower AUD as putting upward pressure on both input and output costs, which have lifted again to fresh highs."
"But the lower AUD also enhances our international competitiveness. New export sales, for example, increased at their fastest pace since February, and there was a solid rise in new overseas business."