Truck manufacturer Hino Australia remains competitive in the market as recent figures showed a 26.5 percent sales growth for the company, according to the Hino website.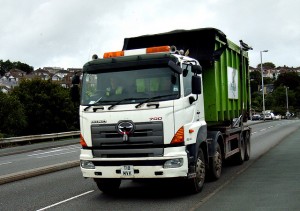 The official T-MARK figures released by the Truck Industry Council of Australia (TIC) revealed that a persistent strong demand and renewed sales momentum have driven Hino's sales to increase by 882 vehicles during 2012. A total of 4216 new Hino trucks were delivered to Australian customers last year. The company's performance grew its total 2012 market share to 15.5 percent, up from 13.6 in 2011.
The Australian new truck market had turned a corner in 2012, displaying strong signs of recovery following several subdued sales years, said Alex Stuart, Divisional Manager Product Strategy, Marketing and Dealer Development at Hino Australia.
"Market demand for trucks in all segments was encouraging in 2012, with a large number of customers returning to the market to replace fleets that were ageing prior to the global downturn," he said.
"Steady supply of Japanese-manufactured models following a difficult 2011 also aided the ongoing sales rebound in the market. The medium duty segment grew 7.2 per cent while the heavy duty segment was up 21.5 per cent.
"Hino's range performed well in the market last year, despite the ultra-competitive nature of the industry," he said.
Growth was seen across Hino's different truck segments. The new 300 series was welcomed by the market and saw its sales rise 25.2 percent to 1801 deliveries and taking 20 percent share of the light duty segment.
The upgraded Hino 500 series tallied a gain of 398 vehicles to 1879 deliveries, and now has 27.9 percent of the medium duty segment.
Meanwhile, the 700 series heavy duty trucks also grew to a positive 29.2 percent or 536 deliveries.
The strong industry sales, particularly in the heavy-duty segment, indicated the critical economic role road transport plays in Australia, according to Stewart.
As Australia's economy begins to stabilize after previous years of uncertainty, Stewart says the company sees the need for more trucks on the road to meet the country's growing needs.
"With efficiency, emissions and safety more important than ever, we see Hino being well placed to provide customers with a truck that is right for their needs.
"This year Hino Australia is introducing a number of upgraded model variants, plus a significant suite of customer care initiatives, to make the job of owning and running a truck less of a burden on operators.
"Having the right product for the market is important – but it's quality after-sales care that makes the difference when it comes to running any truck in one of the most competitive road transport markets in the world," he said.
Stewart said Hino forecasts that the total Australian truck market will grow in line with the TIC 2013 predictions, bringing a five percent increase in sales over 2012.