Indonesia is turning out to be the next big player in the automotive market after China and India, according to an article on the Export Victoria website. The country, which is also known as the largest archipelago in the world, has seen an increase in motor vehicle purchases due to rising per capita income levels and larger numbers of middle class drivers.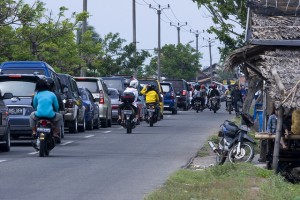 Acknowledging the significant possibilities for the expansion of bilateral trading and investment in the automotive sector, the Australian Federation of Automotive Products Manufacturers (FAPM) has recently signed a Memorandum of Understanding (MOU) with its counterpart organization in Indonesia, the Indonesian Automotive Parts & Components Industries Association (GIAMM).
The agreement solidifies the relationship of Australia and Indonesia, and formalizes a venue for continuous collaboration between respective automotive parts manufacturers. It specifies a mutual focus on automotive engineering, manufacturing, prototyping and testing between the two countries.
FAPM has invited GIAMM and its members to the Australian Automotive week which will take place in Melbourne in March.
According to Export Victoria, Victoria is the center of Australia automotive manufacturing with 65 per cent of the nation's vehicle assembly, 55 per cent of automotive manufacturing employment, 67 per cent of exports and 75 per cent of automotive R&D taking place in the region. The Victorian automotive industry employs 28,000 people, generates AUD13.5 billion in annual turnover and earns AUD1.8 billion in exports.
Meanwhile, Helen Brown reported for Australia Network last year that around a million cars are expected to be sold in Indonesia for 2013. It has become the emerging market as demand in China and India slow down and manufacturers are looking for new places where they can do business.
Car sales is not the only thing rising in Indonesia as motorbikes are also becoming increasingly popular.
"At the Honda factories on the outskirts of Jakarta, 18,000 motorbikes are rolling off the production line every day. Indonesians have developed something of an obsession with owning a bike or a car. And the extraordinary growth is seeing factories like this working non-stop to keep up with demand," reported Brown. Indonesia also has the biggest motorcycle factory not just in Asia but also in the world, according to Hamdhani, Honda's Director for Production.
With these statements made last year and the developments on the first month of 2013, it seems that the Indonesian automotive market will be on the forefront of manufacturing news in months to come.