The recent rains in Australia has boosted the struggling beef industry, increasing grass growth that will feed and fatten herds of the third biggest beef exporter in the world, according to a Reuters report.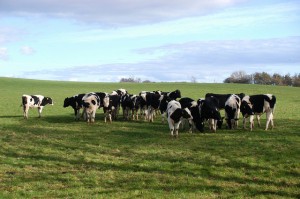 Producers expect farmers to keep the herds longer, as the wetter conditions brought about by Cyclone Oswald will help cattle gain more weight. This will result to a decrease in the market supply in the coming months, but will increase later this year.
David Farley, chief executive of Australian Agricultural Company, said, "I think through March, April and May, we will see a tightening of (Australian) supply."
The Australian Agricultural Company is the country's largest beef producer.
Already the effects of the tight supply are showing on the local prices of beef. According to Reuters, the Eastern Young Cattle Indicator, which is a benchmark collected by the Australian Meat and Livestock Authority, rose to AUD $3.335 ($3.46) per kg last week, the highest since Nov 26.
Meanwhile, beef prices in the international markets have hit record highs this year as high feed costs due to drought caused U.S. cattle numbers to fall for the sixth consecutive year in 2012.
The Australian beef industry will also encounter some challenges as it faces competition from other countries after Japan relaxed its beef import restrictions. According to Reuters, Japan has allowed beef imports from cattle up to 30 months from U.S., Canada and France beginning this February, after easing on the safeguards against mad cow disease.
Although some doubt that the U.S. will be able to meet Japan's needs, Australia, the biggest supplier of beef to Japan, still expects its exports to fall 4.9 percent this year.
"Any U.S. imports into Japan will only boost Australian exports into America," said Greg Campbell, chief executive of S.Kidman and Co Ltd, one of Australia's largest beef producers.
The beef industry is also counting on Indonesia to open doors to imports. While rains make situations ideal in the east, a delay in seasonal rains has stunted grass growth in the Northern territory which is home to 30 percent of cattle.
Recently Indonesia has been implementing a self sufficiency drive, planning to cut import quotas for the year by 30 percent on cattle and 6 percent for beef, even as consumption is rising at 13 percent.
However, Farley believes that a revival of Indonesian exports is viable if the self-sufficiency drives fail to hit government targets.
"The self-sufficient policies that have been put in place a number of years ago were a gallant attempt, but it seems to have failed," Farley said. "The unintended consequences are that prices have gone up."