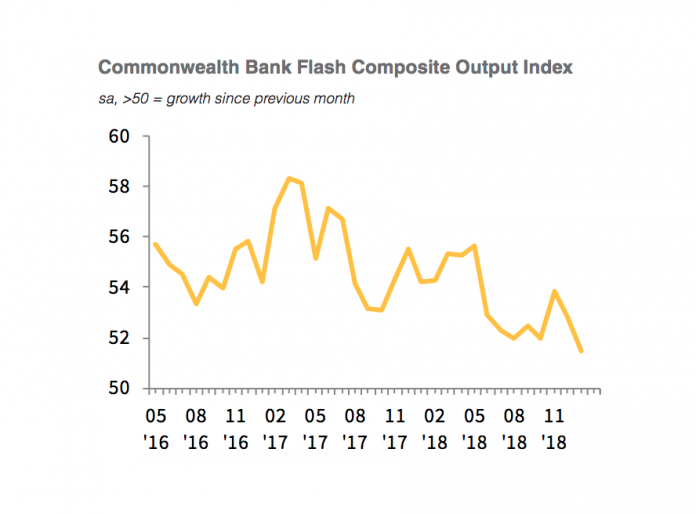 CBA's Flash Purchasing Managers' Index (PMI) for January showed that Australia's economy has had a slower than expected start to the new year, even thought the index remained above the 50 points mark that separates growth from contraction. 
According to CBA's latest report, the Flash PMI dropped to 51.5 in January – its lowest reading over the three-year life of the survey.
The slowdown was caused by the weakening of growth in the service sector, where the latest rise in activity was only marginal and the slowest in the survey to-date.
Additionally, demand for services also rose at a weaker pace at the start of 2019, with panellists linking this to a softer demand environment and drought conditions.
On the flip side, manufacturing production increased at a faster pace in January on the back of stronger growth of both total new orders and new export business, with the difference between the two monitored sectors also seen with regard to employment.
While manufacturers upped their pace of job creation in January, service providers registered the slowest pace of jobs growth in five months.
Commenting on January's Flash PMI data, CBA Chief Economist Michael Blythe, said:
"The Flash PMI shows that the Australian economy entered 2019 on a weaker than expected note. But the divergence between the manufacturing (up) and services (down) components is worth noting," he said.
"Turns in the Manufacturing PMI tend to lead turns in the Services PMI by two months. The leading new orders and employment indexes are also sending a more positive signal than the headline PMI."
"Despite concerns about trade war risks, export orders are holding up. Lower fuel prices are now having a restraining influence on business input costs."
Image credit: www.commbank.com.au