For a record 12th year in a row, Toyota Industries Corporation (TICO) has been named the global number one supplier of material handling equipment.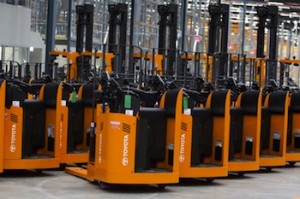 TICO, the parent company of Toyota Material Handling Australia (TMHA), the leading supplier of forklift trucks in Australia, has announced  that respected German magazines Logistik Journal and dnf Intralogistik have recognized TICO as number one for the 12 months to March 31, 2012.
TICO is the sector leader in both magazines' world rankings list of 2011-2012 based on sale of materials which amounted to approximately $AUS6.7 billion (€5.173 billion) and a 24 percent increase on the 2010-2011 result.
Aside from topping the list, TICO is also the only supplier to reach the five billion euro mark, cementing itself in its position as world market leader and further widening the gap between its closest rival.
In order to qualify for dnf Intralogistik's world ranking list, companies must generate a turnover of at least 10 million Euros during the reporting year. The magazine has also reported that Toyota has sold 184,000 forklift trucks in 2011.
"TICO has a clear goal ahead: to accelerate growth and put into practice its Vision 2020 initiatives," says TMHA Executive Vice President and COO Steve Takacs, who attributed Toyota's success to consistently meeting customers' expectations.
"These include being of service in every aspect of customer relations and keeping its commitment to the highest level of safety, environment sustainability, quality, cost and delivery standards.
"It also speaks volumes about Toyota's efficient manufacturing systems and ability to deliver market-leading equipment with a high level of after-sales support," says Takacs.
Toyota Material Handling Group (TMHG), TICO's material handling division has five regional organizations: Japan, China, North America, Europe and international.
According to the press release, Toyota has led the counter-balance forklift market for 36 years in Australia.