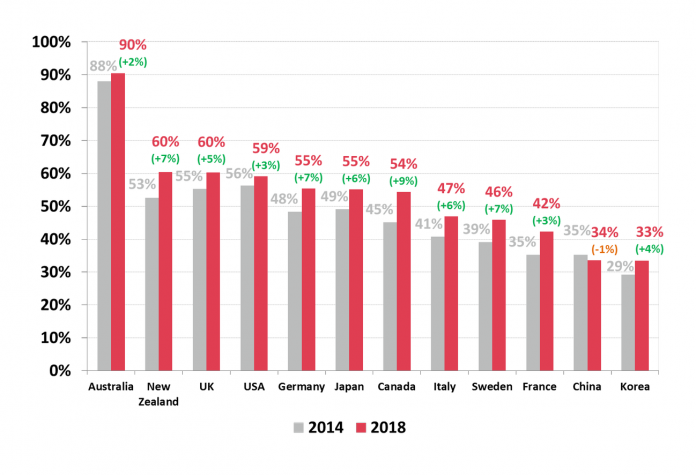 An independent research carried out by Roy Morgan has found that nine out of ten Australians would rather buy Australian-made products than imported goods.
According to the study, 90% of respondents indicated that they would be more likely to purchase food products that were made in Australia, 76% more likely for clothes, 73% for wine, 62% for sporting goods, 62% for electrical goods and 52% for motor vehicles.
Ben Lazzaro, Chief Executive of the Australian Made Campaign said the findings suggest that awareness around country of origin labelling has increased in recent years, with more Australians wanting to know where their products come from.
"Roy Morgan's research highlights the importance that Australian's place on 'buying local', " Mr Lazzaro added.
"There is an increasing demand for authentic Aussie products produced in our clean, green environment and manufactured to our high standards."
Roy Morgan CEO, Michele Levine, said the data shows Aussie-made products clearly have the upper hand over foreign imports in the country.
"90% of Australians are more likely to buy a product that is 'made in Australia', up from a very high 88% four years ago," she added.
"Although these figures are very high across all age groups it is those in Generation X (92%) and Baby Boomers (91%) who are even more likely to prefer Australian-made products than other generations."
Image credit: https://www.roymorgan.com