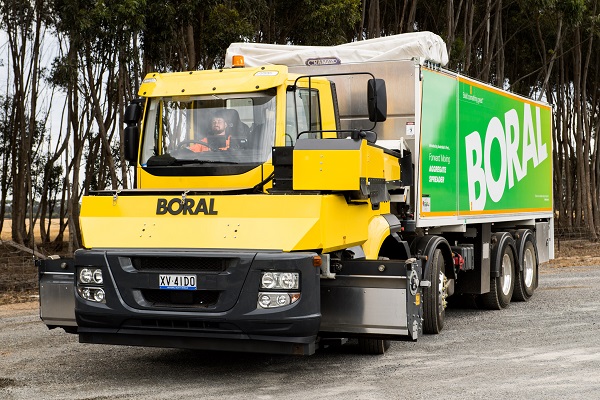 A new partnership between IVECO and Boral has resulted in the development of the Forward Moving Aggregate Spreader (FMAS) – a new road surfacing truck designed to revolutionise the method of spray seal road construction in Australia. 
Up until now, the process of spray seal road construction in the country involved road crews working with reversing trucks that applied the aggregate through an elevated tipper body, increasing the safety risks to workers.
Boral's new road surfacing truck, which is based on IVECO's Stralis AD 8×4 platform, improves safety and maximises visibility by dispersing aggregate from the front of the truck via a conveyor belt and spreader box.
Stuart Partridge, Boral's National Asset Manager – Asphalt, said the FMAS was designed to address VicRoads concerns about worker safety following a serious accident involving a VicRoads worker some years ago.
"Surfacing roads has remained one of the most potentially challenging tasks faced by construction crews because of the nature of the material being used and the way that material is applied," he said.
"Rollover accidents, blind spots and high reversing tippers that can be at risk of interfering with power lines or overhanging trees are just some of the problems associated with the current range of spreaders.
"This invention allows locally manufactured and approved trucks to be substantially modified whilst still meeting regulatory standards, which is why VicRoads has mandated that forward moving aggregate spreaders should be in use on all its projects by 2022 – a move we hope will be followed by other state road authorities nationally."
Boral Australia CEO Joe Goss said the new Boral FMAS was a demonstration of the company's unwavering commitment to ensure the safety of all employees and the community in general.
"This invention speaks to the importance Boral places on keeping our workers safe and our commitment to innovation across all of our products and activities," he said.
"I want to congratulate Stuart and his team for coming up with such an important invention – and one that will be embraced by the industry nationally and in our view, internationally also. It not only delivers a major improvement in safety standards but will also help to lower the cost of road surfacing because it supports a more efficient and productive process."
IVECO Australia Managing Director, Bruce Healy, said the company was 'extremely excited' to have been involved in the development of the FMAS.
"Boral has shown innovation and forethought in researching and ultimately developing this vehicle in line with the new industry safety standards in Australia," Mr Healy said.
"IVECO has a long and proud history as one of Australia's preferred suppliers of concrete agitators and the like for this industry, so naturally we were very pleased to participate in this project.
"As a local manufacturer with an extensive engineering centre in Melbourne, we were able to advise Boral on the best IVECO platform on which to build their vehicle – the Stralis AD 8×4 – and offer support during the development and build process.
"I'm confident that the new FMAS model will be well-received by the market."
Image credit:  https://www.iveco.com.au