Berkshire Hathaway and 3G Capital Management will be acquiring Heinz for $23.3 billion in what is deemed to be the largest deal in the history of the food industry, CNBC reported.
According to CNBC, Berkshire and 3G will each put up $4.4 billion in equity for the deal, along with debt financing from JPMorgan Chase and Wells Fargo. Berkshire will also be buying $8 billion in preferred stock which pays 9 percent. The firms will be paying an equivalent of $72.50 a share. The deal, which including the debt is valued at $28 billion, is expected to close in the third quarter of this year.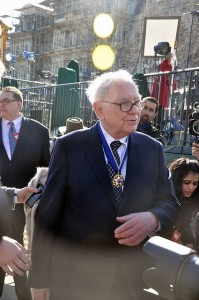 Now, people might ask, why the ketchup maker?
"It makes total sense to me," says Jeff Matthews, a Berkshire Hathaway shareholder in an interview on CNBC. "I think what it really reflects is the big hole in Berkshire's portfolio has always been a consumer packaged goods company, like a Heinz."
Aside from the deal plugging a big hole in their portfolio, Warren Buffett also hinted at the possibility of making another major acquisition since the Heinz deal leaves them with enough cash on hand to bag another "elephant".
In a telephone interview on 'Squawk Box' the billionaire joked "I'm ready for another elephant. Please, if you see any walking by, just call me."
The deal is considered to be an unusual one for Buffett, who is known for his outright acquisitions. But when 3G founder Jorge Paulo Lemann approached him with the idea last December, he thought it was his 'kind of deal.'
3G Capital Management is a Brazilian private equity firm that owns a majority of stake in Burger King. Lemann is also instrumental in the mega-merger that formed Anheuser-Busch Inbev, the world's largest brewing company.
"This is my kind of deal and my kind of partner," Buffett said. "Heinz is our kind of company with fantastic brands." He added, "but I have a file on Heinz that goes back to 1980."
3G will be the primary supervisor of Heinz 's operations once the deal closes, according to Buffett.
In addition to its namesake ketchup, Heinz owns Ore-Ida potatoes, Lea & Perrins Worchestershire sauce and Classico pasta sauce, according to CNBC.
Given Heinz's recent performance, food analyst Robert Dickerson believes that Berkshire and 3G are paying a 'sizeable' amount for the company.