WorkSafe Victoria is launching a major campaign in March that will highlight the physical, mental and social benefits of injured workers that will be resuming their work when it is safe for them to do so.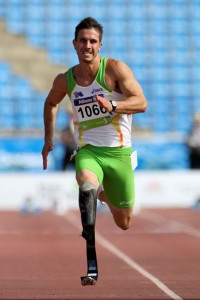 The campaign aims to increase public awareness of the possible health risks that an injured worker might face from being out of job for three months or longer:
• up to 10 times more episodes of anxiety and depression
• greater reduced life expectancy
• higher risk of suicide
WorkSafe has chosen paralympian Jack Swift as their new Return to Work Ambassador. The 27-year old says that he understood better than most the benefits of returning to work after an injury.
Swift was only 21 when he lost his leg due to an accident in a Melbourne construction site. Working then as a plumber's labourer, his right leg was amputated after a 14-tonne excavator ran over it, crushing it below the knee.
He described the experience as something that "absolutely turned my life upside down", calling the next 13 months the worst period of his life.
"I thought losing a leg was like being paralysed," Jack said. "I didn't think I'd be able to hang around my mates, play football, let alone return to work—I couldn't comprehend where my life was going.
"Now, I can do as much as, probably more, than many able-bodied people can do."
WorkSafe says more than 28,000 Victorians are injured every year, on the average, with 6000 remaining off work after three months, and 3000 off work for more than six months.
WorkSafe Victoria chief executive Denise Cosgrove said the health and wellbeing of injured workers declined dramatically after more than 12 weeks off work.
"International research and our own data tells us the chances of someone returning to work drops off around the three-month mark and, after six months, the chances of the worker ever returning to work are halved," Ms Cosgrove said.
"This alarming trend exposes them and their families to a range of increased health, financial and social risks.
"Getting back to work when it is safe and appropriate to do so is usually the best medicine for an injured worker, with research indicating that work is beneficial to their short and long-term mental and physical health."
Cosgrove stresses that a support system which includes family, friends, employer, doctor and medical professionals play a big role in helping an injured person get back to work.
"While an injured person's own determination to get back to work goes a long way, the support and encouragement of the people around them is vital. It's a team effort, but the benefits for injured workers and their families are enormous," she said.
Jack knew that returning to work after an accident could be difficult but the experience, which he went through with the support of his friends and family, only turned him into the person he is today.
"I wouldn't be where I am today without the support I received from my employer, medical professionals, my family and my girlfriend Jenna. They were there every step of the way," Jack said.
"I've been in the shoes of an injured person returning to work after a workplace accident and I know the benefits – it's not just about financial benefits but also the physical, social and mental benefits."
Jack will be visiting selected organizations during the campaign to share his return to work journey. The campaign will also include TV commercials, social media messages and an interactive installation at Southern Cross Station in March.
For more information about WorkSafe Victoria's Return to Work campaign, visit WorkSafe Victoria's Facebook page or follow WorkSafe Victoria on Twitter.