The Monash Centre for Additive Manufacturing (M-CAM), the most advanced facility of its type in Australia, was launched in Melbourne yeserday. 

The centre which was officially opened by the Speaker of the House of Representatives and Member for Chisholm, Ms Anna Burke MP, is set to transform Australian manufacturing to focus on high-end, high-value added and tailored production for the aerospace industry.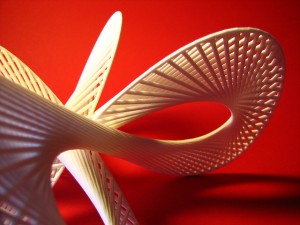 M-CAM will first focus on titanium and nickel high-performance alloys to boost Australia's aerospace industry while value-adding to the country's titanium production says the Monash press release. Australia provides 51 percent of the world's titanium ore, which is an important material in aerospace technology.
Leaders in the field of aerospace were represented at the launch including Microturbo, European Space Agency, NASA Langley Research Centre, Airbus, BAE Systems and Carpenter Technology USA.
"Additive manufacturing processes create 3-D objects  based on a computer file by sequentially depositing thin layers of liquid or powdered metals, polymers or other materials on a substrate. Three-dimensional printing is either synonymous with or a subcategory of additive manufacturing, depending on whom you ask," says Larry Greenmeier, writing for the Scientific American.
For M-CAM, 3D printing is only a part of additive manufacturing, a ground-breaking technology that is flourishing in the area of research.
The cheaper cost and flexibility of the process is the reason why many manufacturers already use 3D printing to make prototypes of parts. It shortens the cycle time needed to produce a product, reduces energy and materials usage and does not depend on economies of scale for profit.
"One of the attractions of printing parts is that it saves material. Instead of machining components from solid billets of metal, in which much of it may be cut away, only the material that is needed to shape the part is used. Printed parts can also be made lighter than forged parts, which promises fuel savings," according to an article from The Economist website.
In contrast, traditional manufacturing results in wastage of up to 95 percent, as it involves creating moulds and casting components from large billets of metal.
"Additive manufacturing is a transformative technology – it has been described as underpinning a new industrial revolution. At Monash we have recognised this potential and actively sought to recruit the knowledge and build the infrastructure required to be a regional, if not global, leader in the field," said Professor Ed Byrne, Monash University Vice-Chancellor and President.
"M-CAM is going to drive the development of a field that will have myriad economic and environmental benefits," said Professor Xinhua Wu, Director of M-CAM and also head of ARC Centre of Excellence for Design in Light Metals.
"We are making components more quickly and more cheaply whilst maintaining the same, if not better performance. This not only creates cost and time savings at the manufacturing stage, but will also enable new and innovative designs that reduce fuel consumption and CO2 emissions. Further, the massive material waste reduction in this type of manufacturing will extend the life of our mineral reserves," Wu said.