Toyota is set to unveil a vision for a two-seater vehicle designed to zip around crowded city streets with zero pollution, according to Toyota Australia.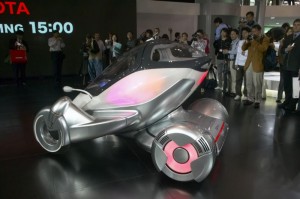 The Toyota i-ROAD, a two-seater vehicle designed for navigating the crowded streets of the future, will be introduced at the Geneva Motor Show in March 5.
It is a compact, fun and emissions-free personal mobility concept capable of swiftly and efficiently transporting two people in an urban environment, according to the release.
The i-ROAD, the latest in a series of compact concepts showcased by Toyota, looks like it features a central steering wheel, based on a sneak peek released by the company. While the overhead image reveals very little about the details of the car, what we can observe is that it is narrow and has only one windshield wiper.
Because of the small size, Digital Trends predicts that it would likely use a smaller battery pack, which will translate into shorting charging times and a lower cost.
Toyota has displayed its concept cars over the past decade as part of its research into personal mobility.
Toyota believes such personal mobility vehicles are part of the future of zero-emission urban transport, according to a press release.
Other models of the concept cars include the Toyota PM, i-Swing, i-unit and i-REAL.
The Toyota PM which was introduced in 2003 is a single-seat concept vehicle that "fits like a glove" to create a feeling of unity between the driver and the vehicle.
The i-unit, which was developed for the EXPO 2005 in Japan, recognizes passengers by their palms and faces, and will approach when you call it from a mobile phone. The variable positioning system changes the vehicle's height depending on its speed.
The single-person i-Swing, which was also shown in 2005 in the Tokyo Motor Show can operate in both two-wheel and three-wheel mode, depending on how much space there is on the road or if there is a greater need to move faster.
It also uses artificial intelligence technology to communicate with the driver through pop-up displays.
The i-REAL, which debuted at the 2007 Tokyo Motor Show, is an 'engineering masterpiece of transformation' that can go in both low-speed of up to 6km/h and high-speed mode of up to 30km/h. Its power comes from an electric battery that drives the two front wheels, providing a 30km range from a single charge.