The Australian-made Chevrolet SS Nascar has claimed victory at the Daytona 500 NASCAR Sprint Cup Series race held on Sunday, February 24, 2013 at the Daytona International Speedway in Daytona Beach, Florida.
Holden announced that the racing version of Chevrolet's new flagship sports sedan, which is based on the Holden VF Commodore, was driven by Five-time NASCAR series champion Jimmie Johnson at the 55th running of the series.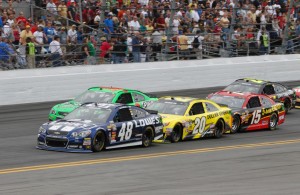 "I'm very happy to win the first Gen-6 race in the Gen-6 car for Chevrolet in their SS," said Johnson.
The racecar driver led in 16 laps and eventually took the lead for good shortly after the final restart.  He has also won the Daytona 500 in 2006 which adds up to a total of 61 victories in 400 career starts.
"Congratulations to Jimmie Johnson, (crew chief) Chad Knaus and (team owner) Rick Hendrick on their victory in The Great American Race," said Jim Campbell, Chevrolet vice president of Performance Vehicles and Motorsports.
"And for the Chevrolet SS to win its first points race is incredible. This is a culmination of a tremendous effort by our engineers, owners, drivers, crew chiefs and teams who worked together to develop the Chevrolet SS race car. So much hard work went into preparing the Chevrolet SS for competition in the Sprint Cup series. We waited a long time for this race, and the performance of the No. 48 team made that wait worthwhile," Campbell added.
According to a press release, the Chevrolet SS is expected to be the model that will put the 'stock' back in stock car racing "as the new 2013 cars more closely resemble their showroom counterparts than ever in recent years."
The SS will be built by Holden Vehicle Operations in Adelaide, South Australia and will debut in American showrooms later this year.
"The Chevrolet SS (and the Commodore SS) will be powered by an LS3 6.2-litre V8 producing "an expected" 309kW of power and 563Nm of torque," according to General Motors in an article on CarAdvice.com.au. "An 'aggressive' final drive ratio of 3.27 inside the six-speed automatic transmission is cited, with a zero to 60mph (0-100km/h) time of 'about five seconds' quoted. The Chevrolet SS/Commodore SS move to a 6.2-litre capacity – up from 6.0-litres and 270kW/530Nm – leaves the door open for HSV to use a supercharged V8 engine in its higher-performance VF range."
"Holden's new retail export campaign couldn't have got off to a better start," said Holden Chairman and Managing Director Mike Devereux. "A win at Daytona is a major event, and a great way for Holden and Chevrolet to give the new SS some great early publicity in the market as the American brand's new flagship sports sedan."
Chevrolet now has 22 Daytona 500 victories, more than any other manufacturer.