RV production continues to strengthen in Australia as the industry continues its record run and produces over 20,000 units in 2012.
RVM Australia reported that figures show a total of 20,708 caravans and RVs were produced in 2012, a number that was within the 5 percent of the 30-year record achievement in 2011.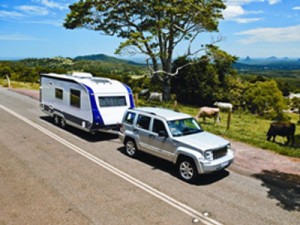 "This is the third massive year in a row – 29% above the level reached in 2009 – and early signs for 2013 suggest we can expect another boom year in 2013," said RVM Australia CEO David Duncan, acknowledging that a healthy demand for locally built RV's, specifically traditional caravans, was the reason for the industry's steady good performance.
"There seems to be no end to the demand for well-built, well-equipped, good-value RVs designed and built in Australia for Australian conditions. Clearly, people want the relaxing, economical and sociable holidays that RVs make possible, with these boom years achieving more than four times the output we had in the mid-1990s."
"Traditional caravans continue to grow in popularity, with 54.6 per cent of the total, followed by pop-tops at 24.3 per cent and camper trailers at 13.8 per cent, while motorised units of all types account for 5 per cent."
Another factor that contributed to the growth was the continued investment back to the Australian RV and caravan industry.
RVM Australia members are expanding their factories and upgrading their production equipment said Duncan.
"We are seeing a constant evolution in production, with computer aided design becoming the norm for a growing number of manufacturers," he said.
"It's all part of the industry's effort to meet the demand for modern, safe, reliable and even luxurious RVs and caravans – and the production figures show the effort is succeeding."
Late last year RVM Australia has already forecasted that the first quarter of 2013 will be a busy one for the organization.
According to an article on ExperienceCaravanningandCamping.com.au, RVM Australia's efforts to promote the importance of the RV industry will emphasize that while many local manufacturing sectors are facing challenges, "RV sector remains strong and positive," with record production levels.
Below is the table from RVM Australia detailing the figures of RV production in the last three years.
RVM Australia: Australian Caravan & RV Production – 2010-11-12

2010

2011

2012

Change 2011/12

Percentage

Towable

19,810

20,561

19,719

-842

-4.1%

Motorised

1,517

1,522

989

-533

-35.0%

All Caravans & RVs

21,327

21,774

20,708

-1,066

-4.9%