About 16,000 Toyota vehicles were sold last month to Australian motorists, more than 80 percent higher than any automotive brand.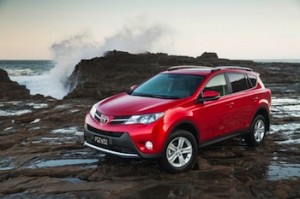 According to Toyota Australia, February sales of 16,107 units were an improvement of 19.7 percent in January. It was also 7.9 percent higher than the corresponding month last year. Both figures represented stronger increases than the overall market as no other brand has reached  9,000 sales for the month.
"Toyota outperformed the overall market in February on the back of improved supplies of vehicles," said Toyota Australia's executive director for sales and marketing Matthew Callachor.
"Dealers will be in an even better position to deliver cars during March, particularly with the first full month of sales of the new RAV4," he said.
For this month, the HiLux and Corolla models were the top performers with Toyota dealers selling 3,319 and 3,158 units respectively.
The sales of the HiLux 4×4 rose more than 70 percent over February last year to 2,505 which, according to the Toyota press release, is an increase that largely reflected stock shortages a year ago.
Meanwhile the sales of the HiLux 4×2 improved to 814 units.
In the passenger car segment, Toyota Corolla, Camry Hybrid, Aurion and Prius all recorded higher sales last month than in the same period last year.
The SUV models Toyota Kluger, RAV4 and FJ Cruiser also performed better than the corresponding month a year ago.
With the recent launch of the new Rav4 which has just entered local Toyota dealer showrooms, it would be no surprise if the car manufacturer continues to ride the wave of high sales in the months to come.
However, while Toyota is doing well in Australia, its sales in the US have seen better days.
According to Bloomberg, the February sales results of the Camry sedan, which has been the top-selling car in the US for 11 years, decreased by 9.5 percent from a year earlier, the biggest drop in 16 months.
Bloomberg says the rough month reflects rising competition for Toyota, which regained the title of world's largest automaker in 2012. Many of Camry's competitors such as the Ford Fusion and the Nissan Altima were revamped last year and both came with bigger discounts in February, based on data from researcher Edmunds.com.
"It's a lot tougher for Camry to maintain the level of dominance that we saw last year," Alec Gutierrez, analyst for Kelley Blue Book, in Irvine, California. "To maintain its dominant position, Toyota's going to have to look carefully at its incentive approach."
The good news is even if Camry's sales dropped, it still outsold its nearest competitor in the US by 22 percent last year and kept the same lead so far this year.