The Australian Food and Grocery Council (AFGC) has launched the $5 million NT Bin Network on Wednesday.
The five-year industry investment solution which will be implemented in the Northern Territory aims to boost recycling rates and reduce litter from packaging, without costing the families in the area.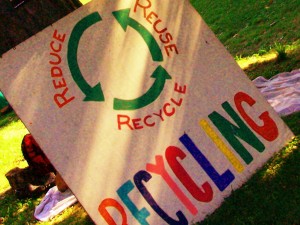 According to AFGC the industry funded scheme involves significant investment in the Territory by installing recycling infrastructure for both glass and plastic packaging. 'Away from home' recycle bins which can be found in commercial venues such as shopping centers, entertainment venues and sporting clubs will also be put in place.
The recycling solution will also establish 'drop off' facilities for all packaging and newsprint in Katherine and Alice Springs and local community groups will be funded and supported to clean up all litter, not just beverage containers.
The plan takes on a different approach from the 'Cash for Containers' scheme which failed after focusing only on beverage containers.
"For the past eight months, industry has been working with KABC NT on a pilot litter reduction program in the East Arnhem Shire, which has successfully delivered a range of litter reduction initiatives to remote indigenous communities and schools within the Shire," said AFGC Chief Executive Mr. Gary Dawson.
The Keep Australia Beautiful Council NT or KABC NT is considered by AFGC to be a key partner in the efforts because of its extensive local networks, in particular those within remote indigenous communities.
"The NT Bin Network leverages industry funding and builds on existing and convenient kerbside recycling systems in Darwin and Palmerston by making it just as easy for Territorians to recycle away from home as it is as home."
"For residents in Katherine and Alice Springs, it is about providing durable recycling crates to households so they too can recycle the full range of packaging and newsprint, just like their Darwin counterparts. The solution also involves the establishment of recycling drop off facilities in those townships to make recycling convenient to households and to enable businesses to drop off cardboard, metals and other recyclable materials," said Mr. Dawson.
Meanwhile, KABC NT Chief Mr. Gary Swanson has lauded the program's success and the interest it has gathered from other communities.
"So successful has the program been that KABC NT has received expressions of interest from other NT Shires to participate in the program", said Mr. Swanson.
"The NT Bin Network is founded on practical solutions for the Territory, address all packaging and all litter, not just beverage containers, will come at no cost to Territorians and is backed by industry dollars," said Mr. Dawson, reiterating the industry's serious position when it comes to its responsibilities in product stewardship.
"Our partnership with the experts on litter, KABC NT will also be expanded to other Territory shires. We urge the NT Government to support the NT Bin Network so we can start delivering real outcomes for all Territorians at no cost to consumers," concluded Mr. Dawson.