Toyota Material Handling Australia (TMHA) has helped develop a unique solution to find the most efficient packing and picking methods for a company that is home to some iconic Australian wines.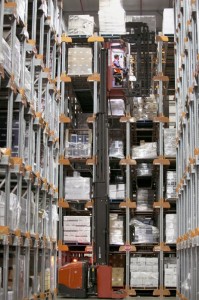 When Rathbone Wine Group (RWG) moved to its new Port Melbourne distribution centre and headquarters five years ago, they were met with the challenge of having lesser space.
"Obviously, the closer you get to the city there's less space available. With this site we had to try to maximise what was available to us, and that meant going up," says Paul Viani, logistics manager for Rathbone Wine Group and 14 Degrees Logistics.
While the company had the plans to have an extra high 14-meter roof which would allow more pallets to be stacked higher than usual, the problem lies in having no means to reach that height.
"The problem is that good, safe picking equipment doesn't really reach as high as we needed," says Viani.
Toyota Material Handling provided Rathbone Wine with the BT Vector-A Series Turret Truck.
"TMHA was able to supply us with a BT Vector-A Series Turret Truck which, at the time, was the only one in the country capable of reaching these heights," Mr Viani says.
"This Turret Truck reaches higher than any similar product we had available to us, and allowed us to add a seventh level of pallets – which gives us an extra 1,000 pallets of storage.
"That's an extra $3,000 to $4,000 of storage per week – or around $200,000 per year."
Aside from the truck TMHA has also helped RWG through the specially engineered Raymond 5200 Series Order Picker.
"With more than 10,000 cases heading out of the warehouse each week, anything that saves us time and makes it easier on our pickers is a huge benefit," Mr Viani says.