MeltView cameras are now available in Australia through SMENCO. The cameras, which were originally developed in New Zealand and now manufactured in the USA, allow welders to 'see' what they are welding from a safe distance, thereby making the job safer, and reducing the chance of incurring welding flash burns.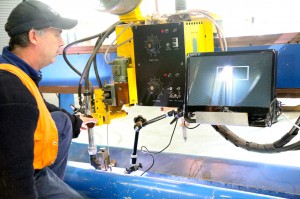 Flash burns are like sunburns in the eyes, which occur when a person is exposed to bright ultraviolet (UV) light, such as a welding torch. Unfortunately welding flash burns are all too common in Australian industries as welders try to get as physically close as possible to visually monitor the work, exposing themselves to high levels of risk.
The consequences end up burdening companies also, with employee hospitalization, loss of productivity and costly downtime.
"In 2013 it is not good enough to ask people to come to work and put themselves in a potentially dangerous situation but this is exactly what is still happening as the number of welding flash incidents shows no signs of diminishing," says Anthony England, Managing Director of SMENCO.
"These cameras will help minimize the operator risk involved in weld monitoring making the workplace a much safer place. That has to be the aim of any employer," he said.
MeltView remote vision welding cameras are designed to capture and magnify images of the welding process so it can be monitored from a safe distance, according to the release. They can be customized depending on size, weight, distance and temperature requirements, for better integration into the welding machine.
The camera system also records images which allow for the troubleshooting of problem welds and quality assurance.
"The Occupational Health and Safety (OH & S) of operators is markedly improved as they are relocated from hazards including fumes, radiation, heat, burns and awkward positions," according to the release.
Welding cameras are already being used in the aerospace, energy, and oil & gas sectors, as well as in heavy industry.
Based in Melbourne with offices in all states, SMENCO is one of Australia's leading distributors of welding equipment, consumables and associated welding technology from around the world.
For more information and videos of MeltView cameras in action go to www.melttools.com