Toyota Australia is partnering with national not-for-profit organization Road Safety Education Limited (RSE) to deliver road safety information to high school students.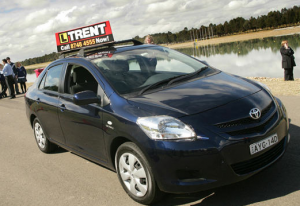 The program is called RYDA and is aimed at 17-18 year old senior students throughout the country. The one day program, which consists of six interactive sessions, is designed to equip students with practical information on safe driving practices.
It will also teach students how to avoid or minimize the impact of common crashes and high risk situations. A car crash survivor who speaks about the impact of a crash on family and friends is among the presenters in the program.
According to a news release of Toyota Australia's website, the program will ensure that the drivers who belong to this age group, who are described as "most vulnerable", will be well informed before getting behind the wheel, especially during upcoming school holidays.
"Toyota is a strong advocate of responsible driving," said Toyota Australia's Executive Vice President and Chief Operating Officer Dave Buttner.
Buttner stressed the importance of young people being knowledgeable on road safety information before obtaining their probationary license.
"While we will always look at new ways to increase the safety features offered in our vehicles, we also understand and support the need to provide young drivers with additional road safety information.
"Statistics show that young people are overrepresented in crash data, which is something we want to change. By partnering with RSE we can make sure more high school students are exposed to RYDA so that they can make informed decisions when getting behind the wheel."
Toyota Australia would be contributing $300,000 over a period of three years to RSE to assist in the expansion of the RYDA program, and raise awareness among its stakeholders which include teachers and parents.
Greg Rapp, RSE's Director of Program Development, said he was committed to growing the level of school participation in the driver education program.
"Last year our RYDA program reached more than 45,000 high school students around Australia, which is an increase on previous years," Mr Rappo said.
"With the help of organisations such as Toyota Australia, we can increase school participation and broaden our program so that we can continue to play a vital role in youth road safety education.
"Feedback from participants reveals they are less likely to drive five kilometres per hour above the speed limit, have a better understanding of how to avoid a car crash and are more likely to turn off or switch their mobile phones on silent before driving after attending the program."
RSE has been running the RYDA program for senior high school students for 12 years. It began in New South Wales and has since expanded nationally and into New Zealand, with more than 250,000 students having now attended the program, according to Toyota Australia.