Santos Chief Executive Office and Managing Director David Knox has hit back at a recent report on ABC News' Four Corners which criticized the approval process for the gas producer's GLNG project.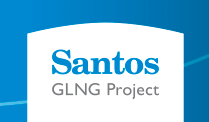 The episode entitled "GAS LEAK!", reported by Matthew Carney and presented by Kerry O'Brien, featured insider claims that coal seam gas (CSG) companies do not go through the proper baseline studies to determine the environmental impact of their projects.
The report has conducted interviews with farmers whose properties have seen a substantial decrease in ground water reserves, and who have seen waters in rivers bubble up because of methane.
"Four Corners reveals what really happened when two major companies applied to develop thousands of square kilometres of southern Queensland for coal seam gas. Using hundreds of pages of confidential documents, the program reveals that the companies didn't supply enough basic information for an informed decision to be made about environmental impacts," according to a background information about the Gas Leak report on ABC's website.
"But why weren't these problems picked up in the development approval process? The answer is simple: according to one insider, the approval process is significantly flawed," says Four Corners.
Knox says he is "very concerned" that the report "may have given viewers a misleading impression" about Santos and the rest of the natural gas industry.
In a statement released on their website he says that the Four Corners program has left out some facts in their report, pointing out that the project has undergone an "extremely comprehensive environmental approval process."
"We accept that the community has many questions about the expansion of coal seam gas activity in Australia. We need to make sure that the community has all the facts to make decisions," says Knox. "We seek to operate safely and responsibly and we abide by the robust regulatory conditions and stringent approvals processes set out by state and federal regulators."
The CEO emphasized that the Santos GLNG project in Gladstone was subject to an extremely comprehensive environmental approval process.
"Rather than being rushed, as claimed by 4 Corners, this process took over four years to complete between 2007 and 2010, involved 20,000 pages of environmental submission and resulted in 1200 specific environmental conditions."
"The Environmental Impact Statement for the project included a detailed, 208-page groundwater assessment prepared by independent consultants, which was provided to the Queensland Coordinator-General and subsequently confirmed by the independent Queensland Water Commission."
"The Queensland and Federal regulators concluded that the information met the requirements of impact assessment and recommended that the Santos GLNG project proceed subject to conditions."
Santos has been a player in the Australian natural gas industry since 1954 and supplies to Australian and Asian customers.
Knox says natural gas provides a huge opportunity to have a cleaner future for Australia and the region.
"The facts about CSG are important and are critical to the continued development of an industry that benefits all Australians."
Santos GLNG publishes up-to-date groundwater monitoring results online at www.santoswaterportal.com.au.