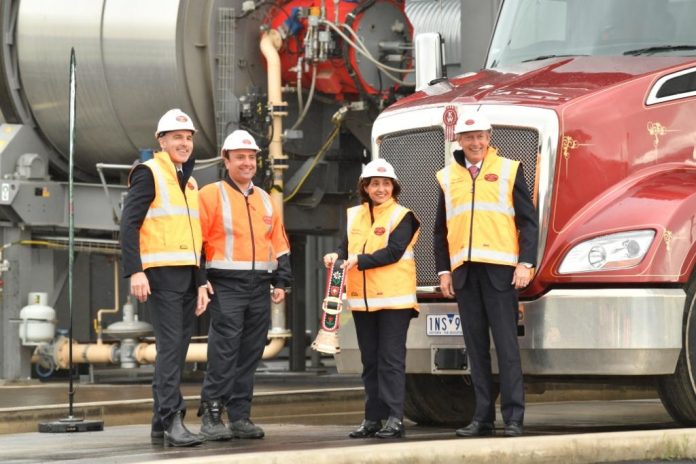 Alex Fraser has officially opened a new high recycled technology asphalt plant along with an innovative glass recycling plant at its integrated recycling facility in Laverton North, Victoria.
The new facilities – which incorporate design features to improve resource recovery and increase recycled content in construction materials – will supply road base, aggregates, sand and asphalt to build greener roads and rail projects, including the Western Roads Upgrade and Level Crossing Removal Projects.
Alex Fraser Managing Director Peter Murphy said the new plants will provide a significant capacity increase in resources, urgently needed to supply to Victoria's Big Build, resulting in significant commercial and environmental savings, including the reduction of landfill, heavy vehicle movements, and the carbon footprint of new projects, by up to 65%.
"These new $20 million facilities are part of Alex Fraser's long term investment in improving resource recovery and infrastructure sustainability for Victoria," Mr Murphy stated.
The new plants are co-located on site with Alex Fraser's existing million tonne per year C&D recycling plant, creating a unique network of facilities capable of supplying large volumes of quality materials to infrastructure projects throughout metropolitan Melbourne.
Now fully operational, Alex Fraser's Glass Recycling Plant is capable of producing up to 800 tonnes of high specification sand per day from the most problematic glass waste streams.
The company's high recycled technology asphalt plant is also in full operation, producing up to half a million tonnes of sustainable asphalt per year.
"Currently, Victorian households generate mountains of problem glass waste every year. Our glass recycling plant is capable of producing 800 tonnes of construction sand per day-equivalent to four million glass bottles," Mr Murphy noted.
"The high recycled technology asphalt plant produces over half a million tonnes of green asphalt a year. These facilities represent an exciting development for Victoria's circular economy; one that will be instrumental to its growth."
Image provided