The locally built Camry Hybrid from Toyota Australia has surged past the Prius in terms of sales, based on data ending March 2013.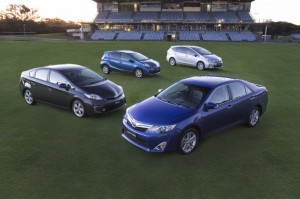 According to Toyota Australia's, the car manufacturer has sold its 50,000th hybrid unit and the Camry model is now found in more households than the iconic Prius, which is still the world's best selling hybrid car.
Toyota Australia's executive director for sales and marketing Matthew Callachor said that the sale of the 50000th hybrid unit in Australia is telling of the technology's popularity and how it has become a leading alternative considered by car buyers.
"Hybrid cars are now regarded as a mainstream choice for local motorists due to a combination of their performance and excellent fuel economy," Callachor said. "We achieved record Toyota and Lexus hybrid sales last year of more than 13,000 cars in Australia – an increase of 64.8 per cent over the previous year.
"Local customers bought more than 10,000 Toyota hybrids in a year for the first time – or almost five per cent of the company's total sales. On their own, Toyota's hybrids would have outsold 50 other marques last year, including Chrysler, Citroën, Peugeot, Renault and Volvo."
Callachor added that "Lexus sold 2,307 hybrid vehicles in 2012, or more than one-third of its total sales."
According to the press release, Toyota dealers have sold almost 42,000 petrol-electric hybrid cars in Australia, while Lexus has delivered 8,500 cars for a total of 50,475 units.
Last March, sales of the Camry Hybrid hit a milestone as it passed 20,000 units. This figure was achieved in just over three years since Toyota began selling the locally-built model back in 2010.
Meanwhile, more than 18,000 units of Prius have been sold in Australia since it was introduced in the country in 2001. The popular hybrid car is now on its third generation.
Sales of both Toyota and Lexus hybrid cars have accelerated in Australia as the range broadened over the years, according to Toyota. This growth in sales also reflects the company's performance in the international market.
"It took until 2008 to pass 10,000 sales and a further two years to pass the 20,000 mark," says the press release.
"Over the past three years, demand has surged to an annual average of 10,000 hybrids due to the launch of the Australian-built Camry Hybrid and last year's arrival of the Prius c city car and the seven-seat Prius v."
"Last year, global Toyota and Lexus hybrid sales passed one million in a year for the first time and the cumulative total is close to five million."