Local manufacturers, industry leaders and researchers gathered at Deakin University on Tuesday afternoon to attend a manufacturing forum. The forum tackled industry issues and gave participants a chance to ask questions and provide feedback to Industry and Innovation Minister Greg Combet, and his parliamentary colleagues.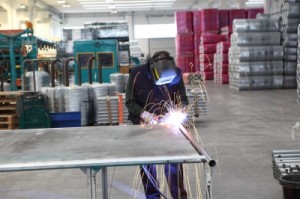 According to a news release, Combet, along with Federal Member for Corangamite Darren Cheeseman, and Federal Member for Corio Richard Marles, addressed more than 40 participants and reminded them about the Gillard Government's $1 billion Plan for Australian Jobs – Labor's commitment to the manufacturing industry.
"Labor's strong economic management during the Global Financial Crisis has provided solid footing for business to continue to prosper by delivering contained inflation, low interest rates, low unemployment, solid growth and strong public finances," Mr. Combet said.
"Notwithstanding these foundations, industry is facing fresh challenges from the high Australian dollar and intense global competition – prompting structural changes throughout the country. Our plan aims to assist in tackling these issues and harness future opportunities."
A Plan for Australian Jobs will help local businesses recognise the opportunities for growth which are already available in the region and adapt successfully to the evolving economic climate.
The plan has three core strategies:  First, to back Australian industry to win more work at home. Second, to support the Australian industry to win more work abroad. And third, to help Australian small and medium businesses to grow and create new jobs.
Also among the topics discussed in the forum is the plan by the Gillard Government to establish up to 10 Industry Innovation Precincts.
"These Industry Innovation Precincts will bring together businesses, research institutions like the CSIRO and universities, business service providers and government agencies to generate new economic benefits for Australian industry," Mr. Cheeseman said.
"I will be actively working with manufacturers, Deakin University and our region to bid for an Industry Innovation Precinct to be based right here in Geelong. Geelong has an extensive and innovative manufacturing industry and Deakin University has received significant Federal investment including $21m for the CADET program, and $37m for the AFFRIC advanced materials research program," Cheeseman said, quoted in his website.
"I believe Geelong will put in a very strong bid, and I will be keeping you informed of our progress with this valuable initiative."
"I have always been the strongest advocate for manufacturing in Geelong."
It has already been confirmed that the first Precinct will be a Manufacturing Precinct, based in two locations in South East Melbourne and Adelaide and the second Precinct will be devoted to the food sector and headquartered in Melbourne. The rest of the precincts will be selected during 2013 and established by 2014 after a competitive selection process.