The government bureaucracies who scrutinised tenders for major public projects had to change their thinking and put local content and local jobs as a top priority, the South Australian State Secretary John Camillo has told a rally in Adelaide.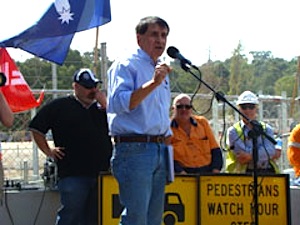 Mr Camillo revealed that while the Federal Government's Jobs Plan would make Australian Industry Participation Plans compulsory for large-scale private ventures, there was still a need for cultural change within bureaucracies at federal, state and local levels.
At the joint manufacturing unions rally last week, Mr Camillo said that the new Royal Adelaide Hospital was a prime example where Australian manufacturing missed out.
Mr Camillo revealed that the project manager of the $1.8 billion project had told the AMWU that none of the double-glazed windows, 700 shower cubicles or water taps would be made in Australia.
"We were told the specified products weren't available here but it has been a failure of state and federal government bureaucrats to give clear specifications well in advance so that local firms had a chance to plan and innovate," Mr Camillo said.
"Here we are spending taxpayers money on a new hospital and much of that money is being sent offshore on products which should be able to be made here. We have to start changing the way we do things," he added.
Mr Camillo revealed  that producing the right materials and products to outfit large government projects  was just one example of how manufacturing might benefit from the Federal Government's plans for 10 new industry innovation hubs.
However, for Australian manufacturers to adapt to meet the specifications for production on such projects, Mr Camillo believes adequate planning and specifications should be made available well in advance, to avoid tenderers automatically tapping into their own overseas supply chain.
'Mr Camillo told AMWU News it was why the Federal Government's proposed Australian Industry Participation Plans for projects above $500 million had to be effective to help scrutinise bids, but this had to flow through to major public works as well as private ventures,' AMWU.
AMWU revealed, the Australian Industry Participation Authority was badly needed to encourage local firms to identify new projects and work to give tenderers the opportunity to look locally.