According to Queensland-based husband and wife Steven & Debra Clifford-Ames, it happened one day after getting a less-than-average night's sleep. From coffee and breakfast all throughout lunch and into the afternoon they discussed the importance of having good bed linen, and that's when the idea of Sheets On The Line was born.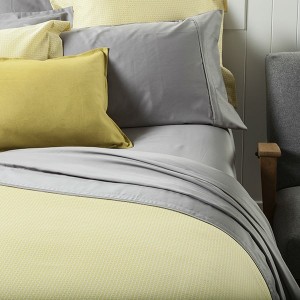 Sheets on the Line is a unique range of ethically and sustainably produced bed linen, using the highest quality linen and 100% certified organic cotton. The line, which is designed and distributed in Australia and produced by a manufacturing team in India, uses cotton material certified by the Global Organic Textile Standard (GOTS). The GOTS is the world leading textile standard for organic fibres, which also include ecological and social criteria.
According to the GOTS website a textile product carrying the GOTS label grade 'organic' must contain a minimum of 95% certified organic fibres whereas a product with the label grade 'made with organic' must contain a minimum of 70% certified organic fibres.
"By choosing organic cotton the company aims to sustain environmental and social benefits at every stage of the cotton cycle, beginning with the way in which it is grown and harvested, through to manufacturing processes which utilise natural products and dyes," according to a press release from Sheets On The Line.
"Dreaming up our ideal palette, the signature colour range represents my love of natural tones, while the designs are inspired by coastal and urban landscapes, architecture, botanical shapes and forms, memories and moments in time," said founder Debra Clifford-Ames on the company website.
"Sheets On The Line embodies timeless simplicity and enduring quality which we believe is the best way to dress your bed beautifully from head to toe. Expanding and evolving seasonally with new colourways and designs, the range can be mixed and matched to create myriad looks."
Sheets On The Line's product line includes sheet sets which begin at $89.95 for Single Size, $119.95 for Queen Size and $129.95 for King Size Sheet Sets.
Free from polyester, the sheet sets include four pillowcases, a generous top sheet and deeper fitted sheet walls. Available in 8 different colours, the sheets are also equipped with top and bottom sheet labels and sizing labels.
The line also carries quilt covers and coverlets beginning at $149.95, pillows and pillowcases, and bed skirts.
Sheets On The Line offers free shipping and 30-Day Return. For more information check out the company's website http://www.sheetsontheline.com.au/.