The Australian Made Campaign will be part of this year's Austech, which will be co-located with National Manufacturing Week (NMW 2013) at the Melbourne Exhibition Center on May 7-10, 2013.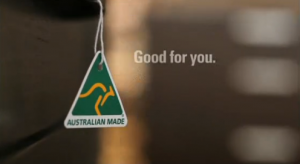 "Innovation has played a key role in the success of our local manufacturing industry. We will look forward to supporting Aussie manufacturers at Austech," Australian Made Campaign Chief Executive, Ian Harrison, said.
Mr. Harrison, who will be attending Austech on May 7, is available for interviews and vision opportunities, according to a press release from the organization.
Australian Made is encouraging professionals and visitors from the manufacturing industry and other related sectors to drop by the Australian Made stand at the AMTIL Manufacturers Pavilion to discover the wide range of quality and locally-made products being offered at the expo.
Austech, which is owned and operated by AMTIL (Australian Manufacturing Technology Institute Limited ), is the country's leading manufacturing and machine tool exbihition. According to the Austech website the event will cover key areas of machine tool and sheetmetal working, including laser equipment, special purpose machines, machining centres and turning machines.
This year, Austech and National Manufacturing Week (NMW 2013) will come together to provide an even greater range of technologies and products. The event is expected to attract over 10,000 visitors.
Meanwhile, NME 2013 features industry-specific Product Zones that will feature a wide range of products from different sectors, integrated into a single exhibition. There are twelve product zones, ranging from Automation and Robotics to Health and Safety. There are also sections on Sustainable Manufacturing and Materials Handling.
Last Week NMW released its mobile app which provides users with more information about the event, including a floor plan and exhibitor details.
"As industry's largest integrated event, NMW has always provided a vast amount of information, in our exhibition guide, on exhibitors, events and more. It's extremely convenient for visitors to have this information at their fingertips, before and during the event," said Paul Baker, Exhibition Director for NMW 2013, who commented that the app is combination of "tradition and technology".
The NMW app, designed around an easy-to-use menu and built natively for iPhones and iPads, can be downloaded free of charge from nationalmanufacturingweek.com.au/appdetails.