Global mining and metals company Rio Tinto has reached a significant milestone this week: to date they have moved 100 million tonnes of rock by autonomous haul truck (AHT) in the Pilbara region of Western Australia.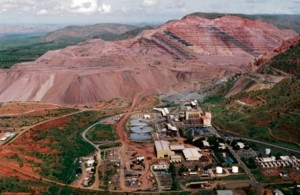 The company's 'Mine of the Future' program, which began as a trial back in 2008, is performing well, with a reported 10% improvement in utilized time since it commenced usage of autonomous trucks.
"Since we commenced trials in December 2008, we have demonstrated improvements in both safety and productivity and in that time we have trained more than 270 employees to operate and work alongside these autonomous haul trucks," said Rio Tinto's General Manager for Mine of the Future, James Petty.
"Our teams managing this equipment recognise the significant opportunity they have to be up-skilled in a mining system which is at the forefront of the global mining industry."
The autonomous haul trucks, which include 19 units of 930E Komatsu currently working on two mining operations, are considered a vital component in the mining company's strategy of utilizing new technologies to increase efficiency, reduce costs, and improve health, safety and environmental performance, according to a media release on Rio Tinto's website.
The 100 million tonnes includes material from the West Angelas operation where the trial first started.  A fleet of 13 AHTs are currently operational in Yandicoogina, while six commenced usage in the Nammuldi operations in March, and have moved two million tonnes since.
Meanwhile, the Hope Downs 4 project in the Pilbara region is scheduled to commence autonomous operation with four trucks in early 2014. The company also has plans to expand its fleet to more than 40 haul trucks across three sites by next year.
The Komatsu 930E used by Rio Tinto is part of Komatsu's Autonomous Haulage System 'FrontRunner'.
"The autonomous trucks navigate in the complex mining environment and can haul a 290-tonne (320-U.S.-ton) payload of overburden and ore without a driver," according to the Komatsu website. "At the West Angelas Mine, the trucks are operated and controlled entirely using a supervisory computer at an operations center. In the future, the trucks will be controlled 24 hours a day from a remote operations center located more than 1,000 km (621 mi) away in Perth."
It is expected that having data from the trucks remotely monitored and verified via a supervisory computer will contribute significantly to the productivity in mines, where it is difficult to secure manpower.