The Australian Manufacturing Workers' Union (AMWU) believes that the country has tremendous potential to be a global leader in naval, industrial and shipbuilding projects, but it also believes that the Federal Government should map out how it will sustain jobs and help grow Australia's shipbuilding industry through the Defence White Paper.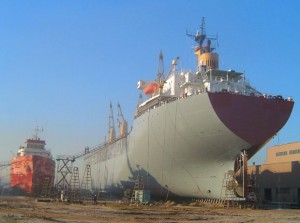 "We have been lobbying Ministers and local MPs about the importance of keeping jobs in shipbuilding and its importance to our economic future," Mr. Bastian said, referring to the White Paper as a "crucial opportunity" that will bring about both short-term and long-term benefits to the industry.
"There are immediate needs in local shipbuilding that can be met by building naval supply ships, or building a fourth Air Warfare Destroyer, projects that will also preserve jobs in our shipyards.
Bastian warns against the dangers of losing shipbuilding skills in a news release on the AMWU website.
"Shipbuilding in Australia is facing the "Valley of Death" – where jobs and critical skills are lost as current work winds down.
"If we lose these skills, it is incredibly difficult to get them back, which means there needs to be more work in the immediate term and planned work over the next few years to sustain and grow the industry.
Bastian is also looking ahead into the future saying that the next generation of defense vessels could secure thousands of jobs for Australians in the next hundred years.
"By designing, building and maintaining defence vessels, including the next generation of submarines, in Australia we can lay the groundwork for a 100-year industry that will provide thousands of jobs for Australians, and be a key to a wider transformation of design services, engineering and manufacturing across the country.
"Being able to build our naval vessels is important for national security. It ensures our frontline defence forces are provided with the best equipment while at the same time creating and sustaining a high-value manufacturing sector."
He believes at present, while local manufacturing companies are struggling with the rising Australian dollar,  the White Paper will provide the country with the chance to deliver an immediate sustainment of shipbuilding jobs, a short-term benefit which will help maintain skills. In the long run, Australia can create a strong, complete and innovative naval maritime engineering industry.
"This opportunity is too good to miss," Bastian said.