Manufacturing activity contracted significantly in April as the industry continued its struggle against the strong Australian dollar, intense import competition, high energy costs, and weak local confidence. This is a key finding of the Australian Performance of Manufacturing Index (Australian PMI) which was released by the Australian Industry Group (AIG) on Wednesday.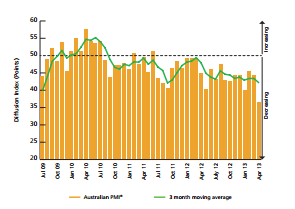 Innes Willox, chief executive of the AIG, says April's sharp drop in manufacturing production, employment and new orders, along with continued decrease in exports, is extremely concerning.
"The strength of the Australian dollar is a major burden on domestic producers and our rising unit labour costs and high energy prices are adding to pressures."
"Together they are undermining competitiveness in both the local market and in export markets and they are proving a major barrier to inbound investment in domestic manufacturing facilities with Australia now ranking among the highest cost manufacturing centres internationally.  As a result a large proportion of the manufacturing sector is now doing it very tough," says Willox on the AI Group website.
The Index fell 7.7 points to 36.7. A reading below 50 indicates a contraction in the activity. This is the lowest level recorded by the Australian PMI since 2009, with contractions in activity also recorded in seven of eight manufacturing subsectors: food, beverage, and tobacco products; printing and recorded media; non-metallic mineral products; metal products; and machinery & equipment.
The wood & paper products sub-sector was the only sub-sector that expanded in April, although slightly, with a reading of 53.6 points.
Exports continued to decline for the ninth consecutive month, with the sub-index falling to 24.5 in April, the lowest reading for the export sub-index since it started in 2004. In Victoria, the PMI fell 8.4 points to 29.1 in April, the lowest level on record, while significant contraction was recorded in other states as well.
"While a further reduction in interest rates would provide some very welcome relief, major efforts are needed, including from the Commonwealth Government in its upcoming Budget, to help lift the pace of investment and innovation in the sector and assist in building the management and workforce capabilities that are needed for Australian manufacturing to play its role in a balanced and diversified economy," Mr. Willox said.
Although manufacturing accounts for only 7 percent of the Australian economy, economists say the April figures are also likely to be representative of other industries.
"The slump in the AIG survey follows deterioration in other private sector business surveys," noted Andrew Hanlan, senior economist at Westpac in Sydney, quoted in an article on Financial Times. "Each survey suggests that current economic conditions are sub trend."