Entries are now open for the Telstra Business Women's Award for 2013, the prestigious award-giving body which celebrates the passion, innovation and success of Australian business women.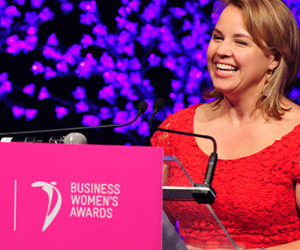 "Since 1995, the awards have celebrated the inspiration, determination and innovation of thousands of Australian business women right across different industries from banking to agriculture, retail and healthcare, at local, national and international levels," said Kate McKenzie, Group Managing Director for Telstra Innovation, Products and Marketing and Telstra Business Women's Awards Ambassador, in a news release via the award's website.
The Telstra Business Women's Awards has been rewarding the achievements of Australian women for 19 years. McKenzie said that aside from the public recognition the Award brings, it also gives the women a chance to further their businesses' growth by raising their public profile and opening up new opportunities. The Award also provides a venue for career analysis and self-development.
"The awards also highlight the importance of women harnessing and sharing knowledge through mentoring. Last year's survey of awards alumni found three-quarters were mentoring other women, which is essential to inspiring and encouraging the next generation of business women to realise their potential and exceed their aspirations," Ms McKenzie said.
Last year's winner Carolyn Creswell shared how her life has changed since receiving the 2012 Telstra Australian Business Woman of the Year award.
"The benefits of winning the award have been amazing for my business. The awards provide an opportunity for outstanding Australian business women to meet and share ideas with their peers, connect with women outside their sector and build new networks."
Creswell says her brand awareness has increased after she won the award, with seven percent of her customers saying they eat her company's products after hearing of her story following her win.
Creswell is the founder of Carman's Fine Foods, which is now a $50 million enterprise that exports to 32 countries. She was 18 when she bought half of a muesli business which she later renamed Carman's Fine Foods. A couple of years later she became the sole owner and managing director of the food manufacturing business which has grown into a multi-national brand offering 22 muesli, porridge and muesli bar products, according to the Telstra website.
She now has staff of about 130 people and supports the local economy by using ingredients from Australian farmers and packaging suppliers to stock domestic and international retailers and airlines.
"The awards are a wonderful way to encourage women to see what others have been able to achieve and then step forward and say 'I can do it!'" Ms Creswell said.
"The entry process is very professional and detailed, you leave no stone unturned. It is a chance to take a breath and remember all the incredible things that have happened along your journey to date. Our career is a journey and not just a destination – we need to remember that and celebrate the journey we are on."
Nominations for the state and territory awards can be made at www.telstrabusinesswomensawards.com. Entries for the 2013 Awards are now open and can be submitted until Tuesday 25 June.