CSIRO has released a white paper that details how industrial robots and computer technology could help sustain Australian manufacturing and secure jobs for workers.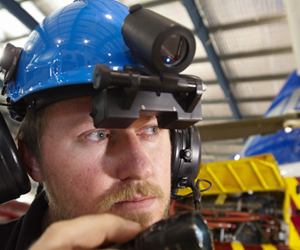 According to a news release from the CSIRO website, the system, which will be known as Lightweight Assistive Manufacturing Solutions, will include "virtual reality headsets, smart robots which can be taught to multi-task and tele-supervised robots which can be controlled over the internet."
The white paper titled "An initiative to enhance SME productivity through fit for purpose Information and Robotic technologies" which contains details about the system and issues concerning the manufacturing sector, was launched on Wednesday at the National Manufacturing Week 2013 (NMW 2013).
The science research body however said that the robots are designed to complement the tasks of the workers, not replace them.
"The idea here is we're looking to be able to support the current manufacturing workforce by improving their skills," said co-author and CSIRO business development manager Dr. Peter Kambouris, quoted in an article on ABC News.
"Australian Manufacturing is shifting away from large-volume production to mass customisation, and companies are telling us they need more flexible systems to deliver these more customised products. This whitepaper seeks to highlight these trends and present solutions which will enable Australian industry to address these challenges," says Kambouris.
"Industrial automation used in manufacturing today is limited, but developments in ICT and robotics present Australia with an opportunity to change the way we manufacture. CSIRO believes lightweight robotics and advanced ICT systems are one way of meeting this challenge," he adds.
One of the innovations being tested by the industry is called ReMote, a system which uses a head-mounted camera that allows the user or worker "to beam what he can see to anyone in a remote location." The person on the other end is then able to help the worker fix an issue or do a repair by means of hand gestures.
"Our focus has been on creating systems which can help people and businesses work safer and smarter. Our consultation with industry has shown that safety, flexibility and affordability are the three drivers for Australian industry," says Dr Kambouris.
The past years have been very difficult for the country's manufacturing sector, largely due to the strong Australian dollar. Investment in the industry has fallen since the end of 2011 and a further decrease of two percent in the last quarter of 2012 has been estimated by the Australian Bureau of Statistics.
Manufacturing activity contracted significantly in April as the industry, aside from its struggle with the dollar, continued its battle against intense import competition, high energy costs, and weak local confidence.