Kellogg's Australia has just signed a seven year power purchase agreement (PPA) with the Beryl Solar Farm. The PPA allows Kellogg's to generate 100 percent of their energy requirements for their manufacturing operations in New South Wales.
Kellogg's joins a growing population of Australian manufacturers switching to renewable energy sources for their power requirements. The new agreement will help Kellogg's to offset the energy required to produced 630 million boxes of cereals during the 7 year period. This in turn, translates into carbon dioxide emission savings equivalent to taking 30,000 cars of the road over the 7 year period.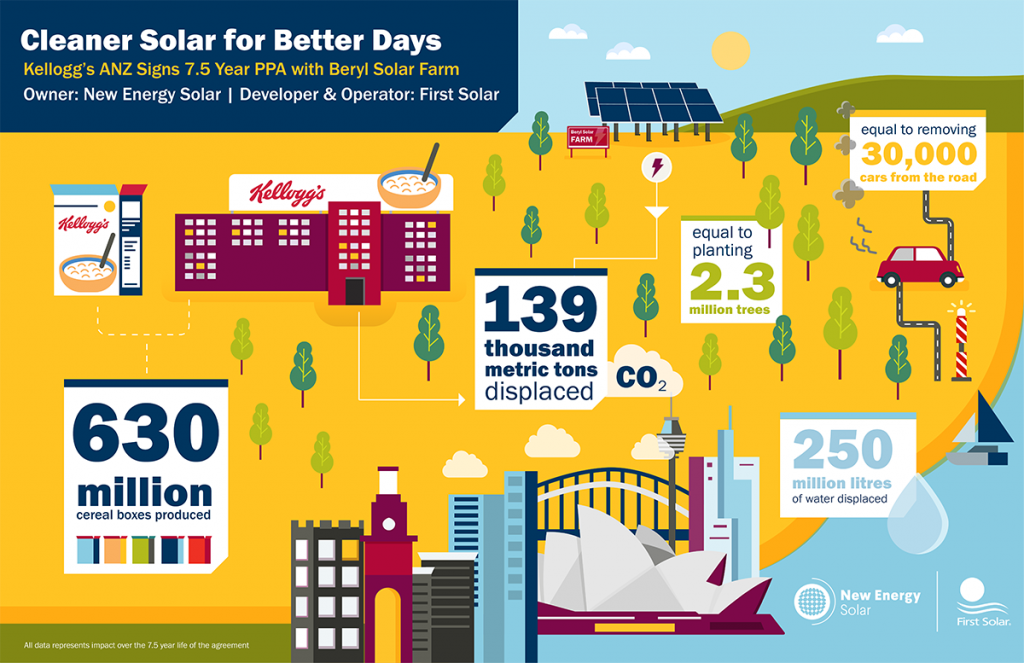 Kellogg's Australia & New Zealand, Managing Director, Esme Borgelt, noted that their adoption of   this PPA was in line with their drive to reduce their carbon footprint and maintain their responsibility to the Australian environment. The PPA also facilitates Kelloggs' drive to reduce their energy demand and increasing efficiency of production.
New Energy Solar, which is listed on the ASX, owns Beryl Solar Farm. John Martin, the CEO and Managing Director, noted that Kellogg's signing of the agreement illustrates Australian corporate entities' increasing acceptance of renewable energy. He attributes this to the understanding that solar energy benefits the companies in terms of reduced energy costs while benefiting the environment and thus all Australian stakeholders.
The set up of Beryl Solar Farm in New South Wales also created direct and indirect jobs during its construction and helped develop skills in a growing industry and supported small businesses. The volume of electricity to be used by Kellogg's over the 7 years will consitiute 29% of Beryl Solar Farm's production capacity. Kellogg's signing of the PPA will therefore help support Australian businesses and the communities around the solar farm in addition to the cost and overall environmental benefits.
Images Provided