Scientists in Australia have now been able to produce plastic solar cells using the Victorian Organic Solar Cell Consortium's (VICOSC) new solar cell printer, which is installed at CSIRO.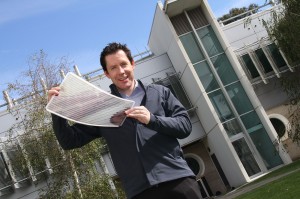 According to a media release from CSIRO, the printer is able to produce organic photovoltaic cells the size of an A3 sheet of paper, 10 times the size of what they were capable of producing before.
Printing the flexible and thin photovoltaic cells opens up a huge range of possibilities for pilot applications, according to Dr. Scott Watkins, Stream Leader, Organic Photovoltaics Materials Science and Engineering at CSIRO.
"In the short term there's applications for these in indoor displays, or powering small consumer devices, or even powering advertising type applications; in the medium term incorporating them into building integrated situations, such as windows in office buildings; and finally rolling them out onto rooftops and powering large areas is what we're aiming to do eventually," says Dr. Watkins in an interview.
The VICOSC team is working on incorporating the cells into the production process of building materials, which is another huge step from the printing they are doing now, wherein they would have to print the cells, take them out, and stick them on materials or surfaces that need power.
"We're also looking at directly printing onto materials like steel roofing, and one of our key partners in this is BlueScope Steel, so actually building them up from the building material, on the roofing material in particular, is a key aim of what we're doing," adds Dr. Watkins.
The new printer is worth A$200,000 and works with a similar technique as that of screen printing on a  fabric. The team has been working with a local printing company in Victoria, who in turn referred them to a printing manufacturer who was able to make some small customizations to an existing paper based printer. The printing company helped VICOSC install the printer and get it up and running, and the result is an innovation that could revolutionize the way power is generated.
"We're using the same techniques that you would use if you were screen printing an image on to a T-Shirt," says Dr. David Jones, VICOSC project coordinator and researcher at the University of Melbourne. "Eventually we see these being laminated to windows that line skyscrapers. By printing directly to materials like steel, we'll also be able to embed cells onto roofing materials."
The organic photovoltaic cells, which produce 10–50 watts of power per square meter, could improve the efficiency of silicon solar panels, according to CSIRO. Silicon panels are the traditional solar cells being used on calculators and roofs and the difference with the printed solar cells is that the latter is very thin and that's what makes them printable and flexible.
"We're using organic molecules in the form of polymers that are most closely related to things that you might see in cling wrap or polystyrene. These organic molecules absorb the sunlight, generate the charges, and produce electricity," says Dr. Watkins.
The Victorian Organic Solar Cell Consortium is a research collaboration between CSIRO, The University of Melbourne, Monash University, BlueScope Steel, Robert Bosch SEA, Innovia Films and Innovia Security. It is supported by the Victorian State Government and the Australian Government through the Australian Renewable Energy Agency.
In addition to the one installed at CSIRO, a complementary screen printing line is also being installed at Monash.
"We need to be at the forefront of developing new technologies that match our solar endowment, stimulate our science and support local, high-tech manufacturing," says Dr. Watkins.