Climate Change, Industry and Innovation Minister Greg Combet has launched the Clean Energy Map at a press conference in Canberra held last week, showcasing more than 1,200 nationwide projects that are helping the environment and economy by cutting greenhouse gas emissions and reducing energy costs.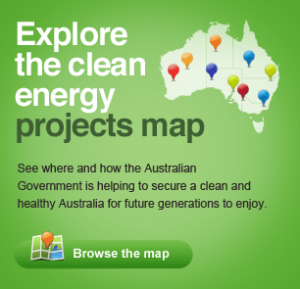 "The Clean Energy Map shows there is widespread action around the country to tackle climate change and invest in renewable energy," Mr. Combet said, quoted in a media release.
"Manufacturers are using carbon price revenue to invest in new equipment ranging from cogeneration plants to new refrigeration technologies, delivering significant cost savings.
The Clean Energy Map is an online, map-based tool where people can read on information about clean energy projects. The map can be searched by suburb, postcode, project type or theme.
Each project includes a brief description of its purpose and the environmental and economic outcomes it is expected to achieve. Viewers can also see funding by the Australian Government from carbon price revenue, and contributions from businesses and communities, wherever applicable.
Projects being carried out can be classified under several measures being promoted by the Government such as Renewable Energy Target, Solar Cities, Energy Efficiency Information Grants, the Carbon Farming Initiative and the Clean Technology Programs.
For instance, the Clean Technology Programs are supporting 223 projects at manufacturing businesses in Australia and the Energy Efficiency initiative provides upgrades to local government and community facilities.
"Community organisations, local councils and households are engaged in projects to use energy more efficiently and cost-effectively," said Mr. Combet.
"Farmers and landholders are undertaking carbon farming projects which are reducing pollution on the land, cutting energy costs and generating new sources of income."
The Carbon Farming Initiative projects involve capturing emissions from landfill, environmental plantings of native species and destroying emissions from piggeries.
Among the projects in the manufacturing industry that the Government is already funding are Sustainable Living Fabrics under the Carbon Neutral Program and the Victorian Automobile Chamber of Commerce and the Plastics and Chemicals Industries Association, both under the Energy Efficiency Information Grants.