120 companies based in Western Australia have received funding from the National Government's Industry Facilitation and Support Program (IFSP) to help them innovate in their businesses.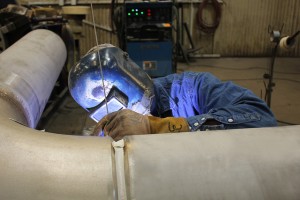 The program has generated $80million in new resource contracts for Western Australian suppliers, leading to 87 new jobs and 10 apprenticeships, according to a media release from the office of Commerce Minister Michael Mischin.
"The program has enabled companies to hire more staff, increase productivity and generate more than $80million in new contracts. This is an outstanding result that would not have been achieved without the support of this Government," said Mr. Mischin, who called the first round of the IFSP grants an "outstanding success".
One of the companies is Alltype Engineering in Naval Base, which received $13,000 to develop a strategic business plan.
"This funding contributed to the company winning a contract to fabricate temporary sea fastenings for Chevron's Gorgon Project," shared Mr. Mischin.
In a statement on their website Alltype Engineering Managing Director Colin Heitman said "This contract award reinforces the competitiveness of local fabrication companies in Western Australia and will see the creation of 60 to 80 local jobs at peak periods."
The Gorgon Project is one of the world's largest natural gas projects and the largest single resource project in Australia's history. According to the company their scope of work involves the supply and fabrication of Temporary Bracing and Sea Fastening for the preassembly portion of the works that the CB&I and Kentz Joint Venture is undertaking on the Gorgon Project.
"Likewise, $25,000 has enabled Landsdale's Perth Survey Services to apply for health, safety and environmental accreditation. The company has since won $4million worth of contracts for the Wheatstone Project, employing three new staff members," said Mischin.
The Department of Commerce has come up with the IFSP to assist Western Australian regionally based and headquartered businesses in improving their competitiveness and capacity to service the resources industry and the public sector market.
The Minister said IFSP was vital in maximising local industry's share in new resource contracts.
"IFSP is delivering real benefits in helping WA companies to win resources contracts. I am confident that this trend will be maintained as further reports are received," he said.