Holden has acknowledged that the decision by Ford to stop all Australian manufacturing operations by 2016 is a reminder of just how tough it is for manufacturers in Australia.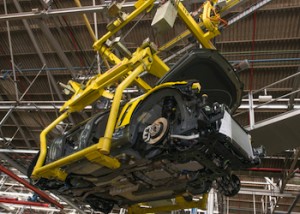 To address the matter, Holden has developed a report titled Australian Auto Manufacturing on the company's website. With the hot topic at the moment being the automotive industry, Holden acknowledges that a high Australian dollar and a very open and diverse car market has left consumers spoiled for choice and placing extreme pressure on manufacturers.
"The Australian automotive manufacturing industry is heavily trade exposed. The appreciation of the Australian currency means that making things in this country is 60 per cent more expensive compared to 10 years ago. The Australian dollar is the strongest it's been in nearly 30 years. We have made significant productivity gains but are witnessing a structural shift in the Australian market which heavily favours importers due to a sustained high dollar and extremely low tariffs. These economic conditions have put intense pressure on the local industry."
Ford has felt such pressures, with the company revealing the carmaker's losses in Australia alone have totaled approximately $600 million (AUD) in the last five years – a key factor behind the company's decision to shut all Australian Manufacturing by 2016, axing over 1,200 jobs.
Since the decision, many have questioned the longterm viability of an automotive manufacturing industry in Australia, but Holden insists they will continue to push ahead with their 10 year plan set out in 2012.
"Holden set out a 10-year manufacturing plan that was agreed with the Australian Government in 2012, based on the economic and market conditions at that time. That plan would see Holden invest a billion dollars in this country and secure production of two all-new global vehicles out to 2022," said Holden Chairman and Managing Director, Mike Devereux.
The carmaker believes that in order to secure success for the industry, swift action is needed to make Australia's automotive policy settings clear, consistent and globally competitive as quickly as possible.
"Holden is working closely with the Australian Government, Federal Coalition and the State Governments to ensure the viability of the industry in the face of the historically significant economic challenges facing the country."
Holden revealed the company is one of 19 of the G20 countries with an automotive manufacturing industry. "Holden has been in Australia for more than 156 years and was the first company to fully manufacturer a car Australia in 1948."