Dassault Systèmes, a leader in 3D design software and Product Lifecycle Management (PLM) solutions, has yesterday announced its intent to acquire Apriso, a leading provider of manufacturing software solutions, for approximately $205 million.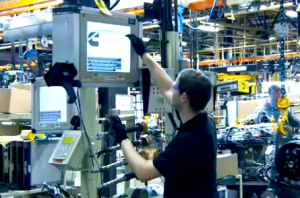 The acquisition of the California-based Apriso is set to enrich the global manufacturing operations management capabilities of Dassault Systèmes'  3DEXPERIENCE platform.
In a statement from the company, Apriso will expand Dassault Systèmes' 3DEXPERIENCE footprint across multiple industries, including consumer goods, packaged goods, high tech, life sciences, transportation & mobility, aerospace & defense and industrial equipment. Customers that are currently using the software solutions include Alstom, British American Tobacco, Bombardier, Cummins, General Motors, Hitachi, Japan Tobacco, L'Occitane, Lockheed Martin, L'Oreal, Philip Morris International, Saint-Gobain, Textron Systems, Trixell, Valeo, and Volvo CE.
Apriso will reportedly integrate with and expand Dassault Systèmes' DELMIA application portfolio and the 3DEXPERIENCE platform's virtual+reality capabilities. Apriso's solutions synchronize global manufacturing networks, offering real-time visibility and control over the business processes performed by plants and suppliers.
"This acquisition will merge 3DEXPERIENCE and Apriso's solutions and deliver a new business experience to our customers," said Bernard Charlès, President and CEO, Dassault Systèmes. "The question isn't simply, 'what is the next innovative idea?' but rather 'Can you produce your idea quickly, efficiently, and cost-effectively? Can you excel in global business responsiveness and local production agility?'  These are the questions the 3DEXPERIENCE business platform answers."
President and CEO of Apriso, Jim Henderson, has welcomed the acquisition by Dassault Systèmes.
"The Apriso team is proud to join Dassault Systèmes and to bring proven products and expertise in solving global manufacturing challenges. Now in combination with Dassault Systèmes' leadership in 3DEXPERIENCE, we are 'closing the loop' between design, engineering, manufacturing and consumer experience. Global manufacturers can now accelerate new product and process innovations into the global market," Mr Henderson said.
Dassault Systèmes and Apriso have entered into a definitive acquisition agreement whereby Dassault Systèmes will acquire Apriso in a cash transaction. The completion of the acquisition is said to be subject to normal closing conditions, including regulatory approvals. The acquisition is expected to be completed in July 2013.