About 300 shipbuilders from Sydney gathered at a stopwork meeting on Wednesday in support of a nationwide campaign for local jobs, according to reports from AAP published on The Herald Sun.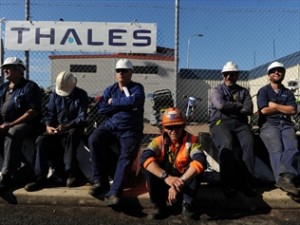 The group met outside the offices of defense company Thales in Garden Island, as other shipbuilders assembled in other areas in Newcastle, Western Australia, South Australia, Victoria and Tasmania.
Industry groups have been lobbying politicians about the importance of keeping jobs in shipbuilding and its importance to Australia's economic future.
Australian Manufacturing Workers Union (AMWU) NSW secretary Tim Ayres said politicians need to commit to building the defense fleet in Australia.
"Right now there's a massive ship building program underway in Australia," Mr. Ayres told AAP.
"The problem that the industry faces is that in the next two years there's what's called the 'valley of death'.
The "valley of death" is inciting fears among naval workers who worry that they could lose their jobs with a drop-off in defense shipbuilding predicted over the next two years.
Aside from the loss of jobs, the AMWU is also worried that critical skills might be lost as the current work winds down.
"If we lose these skills, it is incredibly difficult to get them back, which means there needs to be more work in the immediate term and planned work over the next few years to sustain and grow the industry," said Paul Bastian, National Secretary of the AMWU, earlier this month.
"By designing, building and maintaining defence vessels, including the next generation of submarines, in Australia we can lay the groundwork for a 100-year industry that will provide thousands of jobs for Australians, and be a key to a wider transformation of design services, engineering and manufacturing across the country.
"Being able to build our naval vessels is important for national security. It ensures our frontline defence forces are provided with the best equipment while at the same time creating and sustaining a high-value manufacturing sector."
The AMWU said recent defense White Papers had identified the need for $250 billion to be spent on the Australian navy over the next 30 years.
Meanwhile, Mr. Ayres reminded that it is not just about jobs, but also about national security.
"What the federal government needs to do is act urgently and bring forward some of the ship building being planned beyond 2015 to make sure that companies continue to invest, workers continue to be employed.